Drupal
Why Choose Drupal? 7 Business Requirements it Seamlessly Addresses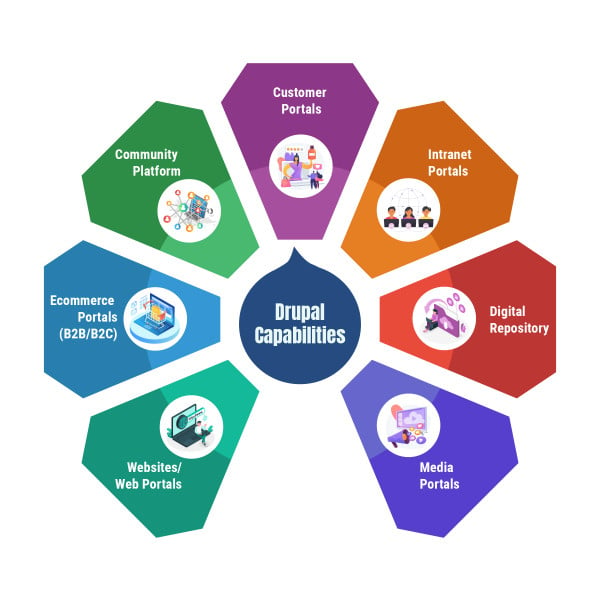 Drupal isn't just a CMS anymore. It has evolved to become a central part of the larger digital experience platform ecosystem. Designed to cater to agile marketing and communication teams, its functionality extends far beyond a traditional CMS. It offers a vast array of capabilities, suitable for a wide range of digital projects, thereby showcasing Drupal's versatility.
Whether you're embarking on creating a state-of-the-art website or establishing a comprehensive digital repository, Drupal's robust framework is up to the task of empowering you to craft personalized experiences for various audiences through its extensive set of modules and capabilities. This article explores seven use cases where Drupal excels, complemented by an infographic showcasing the prominent features Drupal manages proficiently in each scenario.
Exploring Drupal Capabilities: Seven Business Requirements ideally suited for Drupal
1. Websites and Web Portals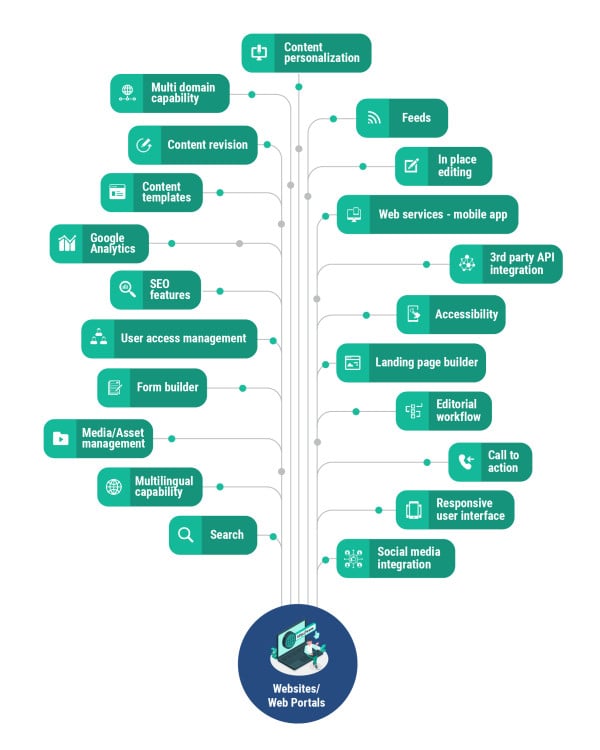 Drupal aids in crafting personalized digital experiences for your audience. It is a tool that can adapt and evolve with your audience, fostering stronger connections through relevant content and enhancing user satisfaction and loyalty. It empowers you to build online environments that truly understand and cater to your audience's needs.
When you opt for Drupal to power your websites and web portals, you're setting a firm foundation for scalable, secure, and high-performance digital platforms. 
Features of a Corporate Website
Here is a list of the top 10 features Drupal can help you implement on your corporate website.
Multilingual capability
Multidomain capability for country-specific or product-specific websites with a central backend
Content personalization
Content template
Content revisions and workflow
Technical SEO
Media/Asset management
Landing page builder
Form builder and integrations with Marketing automation systems
Web services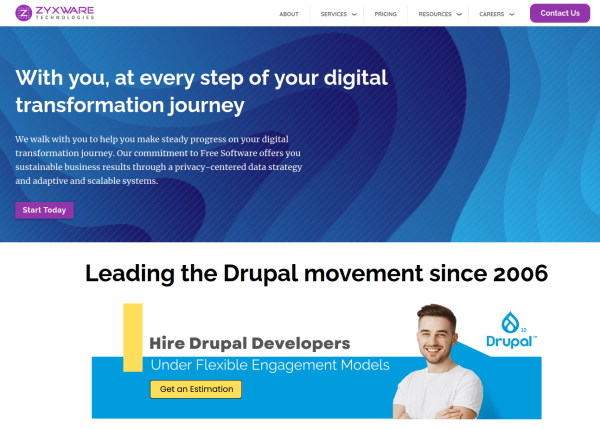 Our website, www.zyxware.com uses Drupal at its full capacity. Drupal connected with Hubspot, OptinMonstor, and our website personalization engine, making it a platform to generate leads. See the website personalization demo for understanding the personalized message delivery capabilities of the website.
2. E-commerce Solutions for B2B and B2C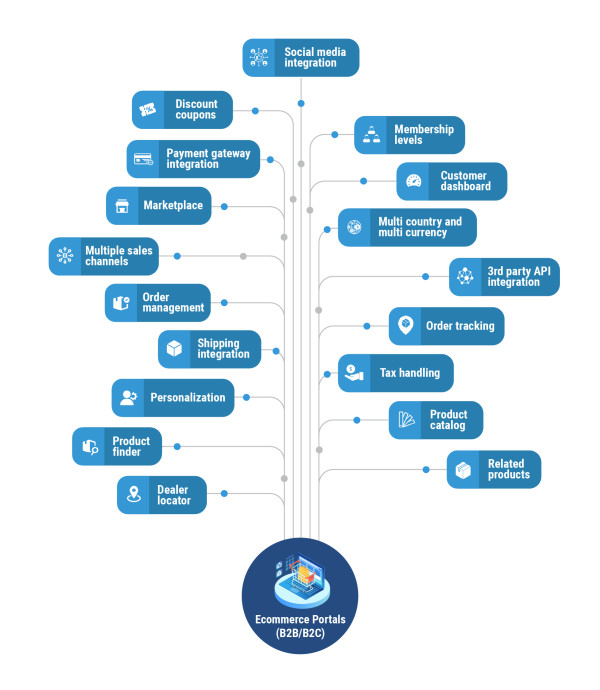 Drupal is capable of implementing e-commerce solutions that are both potent and flexible, adeptly catering to the varying needs of B2B and B2C market spaces. It facilitates an interconnected ecosystem where content and commerce align perfectly, enhancing the buyer's journey at every stage. Integration with payment gateways and CRM systems is seamless, providing a comprehensive solution that is secure, and robust solution, allowing businesses to grow and scale without hurdles. 
Features of an E-commerce Website
Here is a list of the top 12 features Drupal can help you implement on your e-commerce website.
Product information system
Order management system
Faceted and Semantic Search
Marketplace
Membership
Recommendation engine
Multicountry and currency support
Customer dashboard
Content personalization
Landing page builder
Form builder and integrations with Marketing automation systems
Web services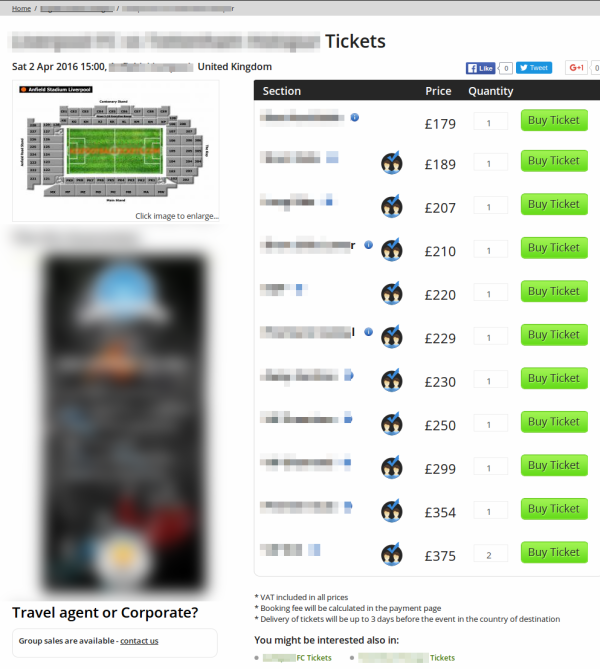 Content, commerce, and data are something that always gel together in the context of the web. One of the success factors behind the ticket-selling platform I architected a few years ago is a good example of effectively utilizing this combination.
3. Media Portal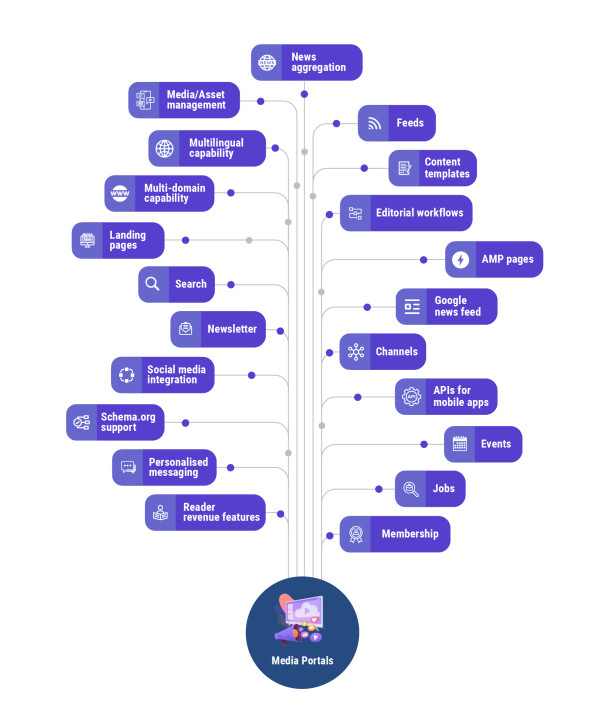 When you bring Drupal into your media portal framework, you're not just opting for a CMS; you're investing in a digital experience platform designed to evolve alongside your brand and audience. Drupal stands as an agile tool for media companies, capable of delivering content that connects and captivates.
Its robust architecture makes it simple to manage and distribute diverse media types, from articles and blogs to videos and podcasts. As your media outlet grows and audience preferences shift, Drupal's scalability ensures you're always ready to meet new challenges head-on. As every media organizations are looking for options to enhance their capability of reader-generated revenue, Drupal will be the right choice as it connects well with your digital ecosystem.
Features of a Media Website
Here is a list of the top 14 features Drupal can help you implement on your media website.
News aggregation
Content templates
Editorial workflows
Media/Asset management
Multilingual capability
Multidomain capability
Landing pages
Search
Newsletter
Google news feed
APIs for mobile apps
Content recommendation
Membership
Reader revenue features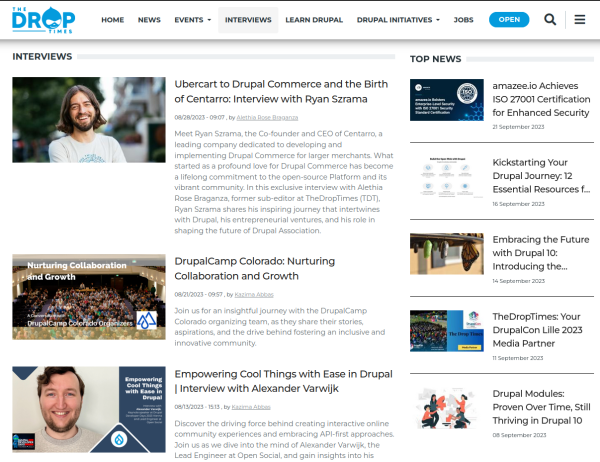 The Drop Times is a perfect example of a media website that uses Drupal. It uses the features mentioned here and serves as an initiative to promote Drupal.
4. Digital/Knowledge Repositories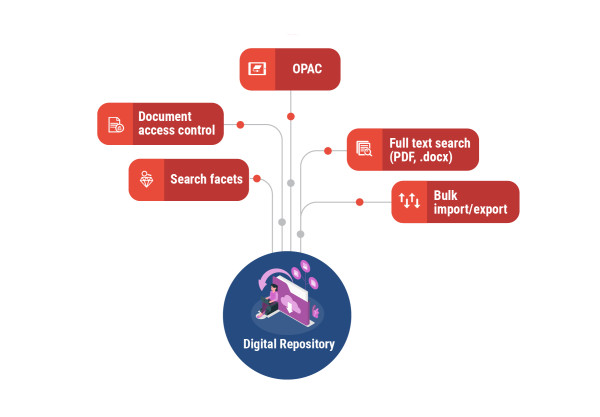 For digital and knowledge repositories, Drupal facilitates structured storage of digital documents and content, advanced search options for easy retrieval, and seamless integration with various external systems, including digital asset management systems and data visualization tools, making managing and creating digital repositories straightforward and efficient.
Features of a Knowledge Hub/Digital Repository Portal
Here is a list of the top 10 features Drupal can help you implement on your Knowledge Hub/Digital Repository website.
Structured data
Content templates
Editorial workflows
Media/Asset management
Faceted Search
Full-text search on PDF/Docx/Odt/Etc
Data visualization
OPAC support
Permissions and access control
Membership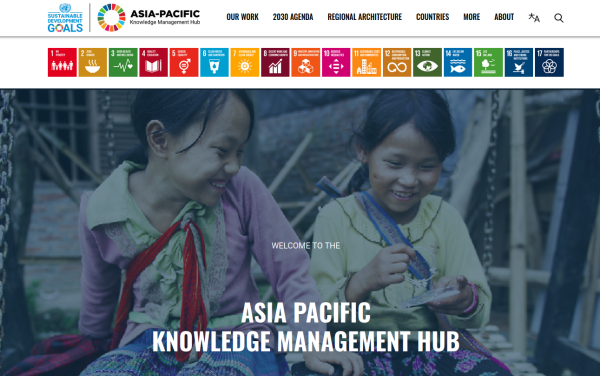 The Knowledge Management Hub for UNESCAP serves as a good example of a knowledge portal implemented in Drupal.
5. Customer Portals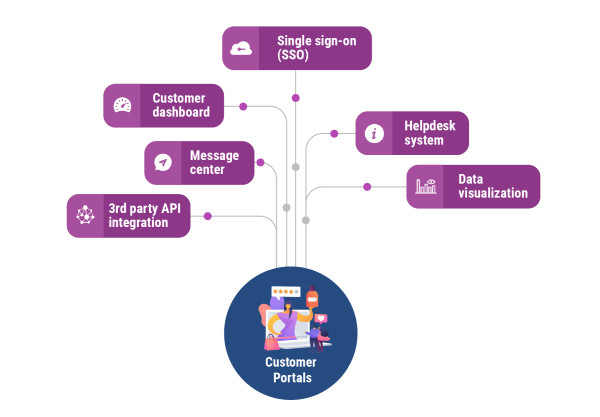 Drupal plays a key role in the creation of customer portals that act as a one-stop-shop for end-users, providing them with easy reach to different services and information within a company. The modular architecture and structural organization Drupal offers make it a reliable choice for constructing customer portals that stand independently or as part of a company's main website.
Features of a Customer Portal
Here is a list of the top 5 features Drupal can help you implement on your customer portal.
Single Sign-on (SSO)
Customer dashboard
Integration with internal tools and systems
Data visualization
Notification/Alert system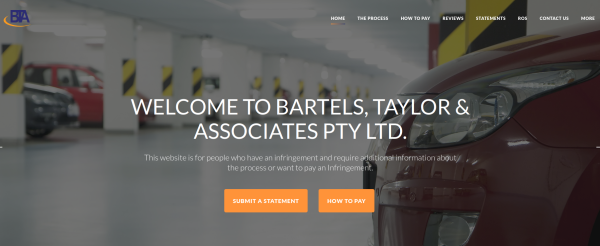 BTA is an organization in Australia managing Infringement notices for councils, hospitals, and universities throughout Victoria. We helped them build a new website for them and create a customer portal where their customers self-service the infringement notices they get.
6. Community Portals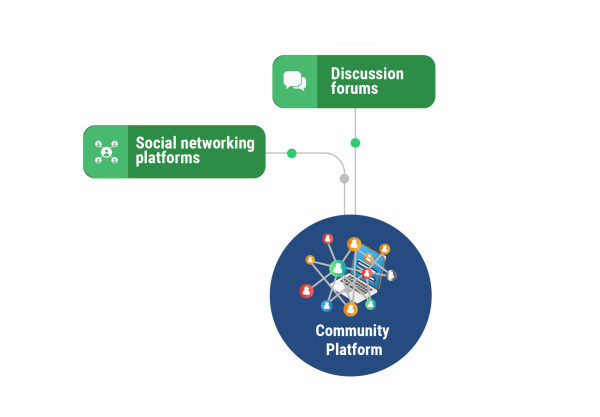 In today's competitive market, building communities around products and services is essential. Drupal helps in crafting vibrant community portals that serve as hubs for customers, enthusiasts, and curious minds to come together, offering a goldmine of insights and fostering a loyal customer base. Its modular approach allows for scalability, letting you add functionalities as your community grows, while ensuring data security and cultivating trust and reliability.
Features of a Community Portal
Here is a list of the top 7 features Drupal can help you implement on your community portal.
Single Sign-on (SSO)
Message center/Social wall
Discussion forums
Membership
Gamification/Engagement Score
User management and access control
Social media integration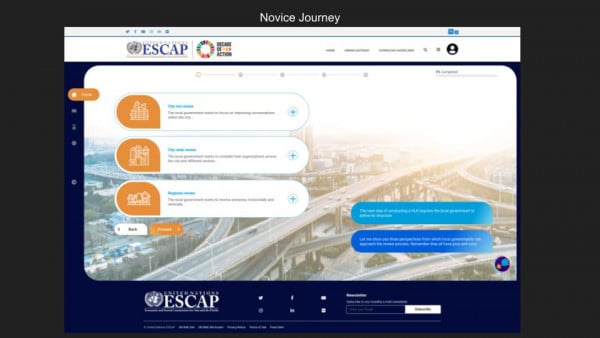 VLR is an example of an interactive community portal, where visitors can learn how to execute a voluntary local review process seamlessly. Another example is the alumni community portal we have implemented. 
7. Intranet Portals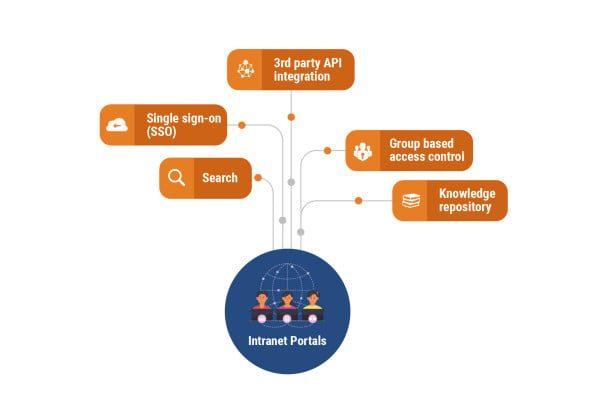 Intranet portals are the corporate backbone, fostering internal communication and streamlining workflows. Drupal's flexibility allows for a customized setup that aligns perfectly with your organizational structure, thereby facilitating smooth navigation and efficient information retrieval.
Features of an Intranet Portal
Here is a list of the top 7 features Drupal can help you implement on your intranet portal.
Single Sign-on (SSO)
Message center/Social wall
Discussion forums
Internal tools integration via API
Knowledge repository
Department/Group based access control
Search
Decoupled Drupal

Decoupled or headless Drupal gives you the best of both worlds with a robust backend and a dynamic frontend, leveraging the latest technologies to offer rich user experiences. It offers compatibility with popular frontend frameworks like React, Vue, Angular, Ember and NextJS, giving you the freedom to fully or progressively decouple based on your needs.
Composability in Drupal
In recent years, Drupal has made significant strides to evolve into a more user-friendly and security-conscious tool, enhancing its automated updates and project browsing capabilities to foster an 'app-store'-like experience for its end-users1 . This journey commenced earnestly in 2020, with the integration of semantic versioning for contributed modules, initiating a foundational shift in the Drupal ecosystem.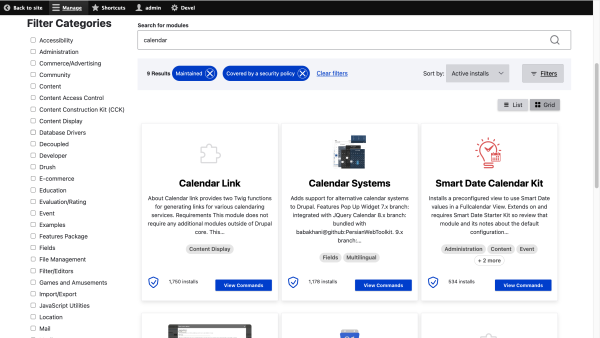 Throughout 2020 and 2021, pivotal decisions were made to secure and streamline update processes, adopting The Update Framework (TUF) and Composer Stager library while nurturing collaborative relationships with other PHP project communities. The dedication carried into 2022, as concerted efforts were put into enhancing Package Manager's functionalities, a cornerstone for Drupal's installation and update procedures, harmonizing it with the newly conceptualized Project Browser and Automatic Updates initiatives.
As of 2023, Drupal stands on the cusp of integrating these powerful tools into its core, promising a seamless and dynamic user experience. This forward momentum, championed by a collaborative effort signifies Drupal's commitment to remaining a frontrunner in offering the most user-friendly and secure CMS, set to redefine the way users interact with and leverage the myriad functionalities Drupal has to offer, heralding a future where composability become a core piece of Drupal.
Migrating to Drupal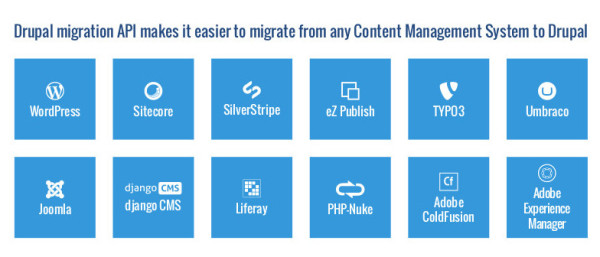 If the limitations of your existing CMS are hindering your marketing and communication initiatives, it's time to consider migrating to Drupal and harnessing its powerful capabilities. Trusted globally, it not only ensures security but also enhances your website's visibility in search results, promising a simpler management process.
Conclusion
Drupal is not just about building a portal; it's about crafting experiences that see and value users, encouraging active engagement and collaboration. Whether you are a marketer looking for a modern platform or a corporation striving to enhance internal communications, Drupal stands as a formidable choice, ready to cater to all.