Customer Experience
Building Community and Maximizing Revenue: A Media Success Story
Introduction
As the media industry continues to navigate the challenges posed by digital disruption, one organization stands out as a prime example of adapting and thriving in this new landscape. The News Minute (TNM), a digital news platform based in India, has achieved impressive growth and success in recent years, largely thanks to its focus on building community and maximizing revenue.
The News Minute

The News Minute (TNM), is a leading news platform that provides trustworthy news related to the five Southern states of India. They aim to engage their target audience, the South Indian diaspora living in India and abroad, through inclusive and thought-provoking content that promotes gender equality and embraces cultural diversity. TNM has quickly established itself as a reliable news source by delivering accurate and timely regional and national events reporting. 
Focus on Community Engagement
TNM aims to differentiate itself from its competitors by providing a sense of community among its readers through editorials, podcasts, videos, and newsletters. TNM encourages readers to engage in editorial discussions and contribute to the platform. As a key player in the media industry, TNM recognized the importance of reader engagement and revenue models in sustaining their business. 
Membership Model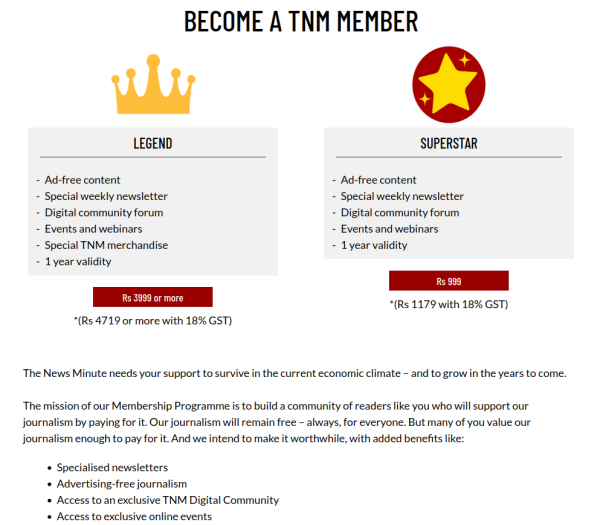 To create a reader-supported revenue generation model, TNM's strategy starts with creating a membership system and a mobile app that offers an advertisement-free experience to its readers. Zyxware supported TNM's strategy by engineering a membership system and updating its website and mobile app to support the new membership platform.
Through the membership model, TNM aims to make the user a captive audience by providing a value proposition of login and community. TNM aims to accomplish this by targeting the user through its lifecycle stages and identifying touch points at each stage.
Differential User Experience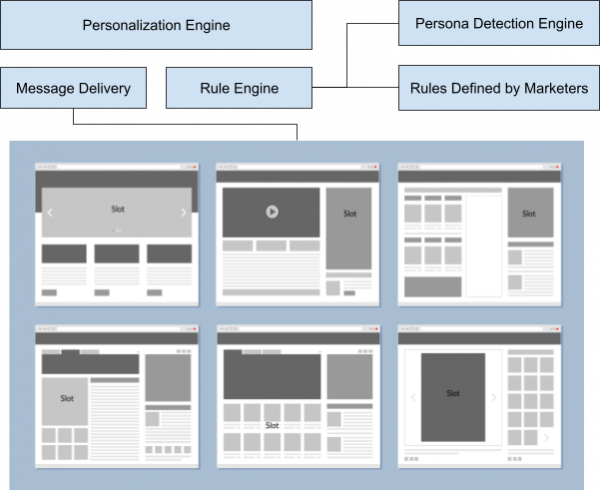 Zyxware, through a consulting engagement, helped TNM to develop a differential user experience strategy that leverages reader behaviour data to deliver a more engaging and personalized experience. The differential experience and personalization strategy are developed to empower the CMS (TNM uses Drupal) to analyze factors such as the reader's reading history, search queries, reading time, engagement levels, and other activities to identify patterns and trends. The idea is to connect this system with the CMS to provide personalized messaging to its readers tailored to their interests. 
The differential experience strategy of TNM's readers is divided into three stages: 
Reach
Captive
Payment
Reach
TNM focus on Search engine optimization (SEO), digital distribution networks, and social media to reach potential readers interested in South Indian news. 
Captive
Through the differential (personalized) user experience and effective communication, the readers are encouraged to log in to the platform and become part of the TNM community. Once the users are part of the community, they can access exclusive content and get opportunities to interact with the editorial team and involved more closely with like-minded people and participate in larger debates and events organized by TNM. 
Payment
In the Payment stage, the revenue generation model is membership-based subscriptions that offer users a variety of benefits, such as exclusive content, ad-free experience, and personalized recommendations. By creating a membership-based login system, TNM generates revenue through subscriptions and provides an opportunity for targeted advertising to a specific audience.
The differential experience strategy will enable the TNM ecosystem to nurture users through their journey and offer its users a personalized experience that, in turn, can be a revenue source for TNM. 
The Impact
From the beginning, the digital consulting team was closely involved with the TNM team in evolving the platform as a product that started purely based on advertising revenue to the current stage, where the focus is on building a community and reader-generated revenue model. 
Performance
By implementing the right caching strategy and optimising the database and code, the platform can now withstand the high traffic and spikes that happen from time to time without a major upgrade in the infrastructure. 
SEO
The Search Engine Optimization (SEO) aspects are taken care of regularly by setting up templates for metadata and addressing technical issues. We also created the system with semantic markup and relevant schema to make it easy for search engines to crawl and index the platform. This made TNM popular in organic search, Google Discover and Google News channels.
Personalization Strategy
The involvement of the Zyxware consulting team was primarily in developing the personalization strategy and framework, including a digital marketing experiment to understand user behaviour and deliver differential messaging. Once implemented, the data captured and analytics will help the editorial and marketing teams improve their focus on the readers, generating value that translates into reader-generated revenue. The impact of the strategy will be tangible and visible on TNM's platform.
Segmentation and Targeting
The differential experience strategy will help TNM by creating a platform that segments users based on their interests and behaviours, allowing businesses to provide a customized user experience that meets their needs. TNM can improve its conversion rates by targeting specific audience segments by delivering more relevant messaging and offers. This will help TNM engage users and provide a personalized experience, thus improving customer retention rates.
Login System and Community Engagement
The differential experience strategy through a robust login system and community engagement tool will help in the following:
Improving User Experience: By creating a login system, users will have access to exclusive content, and the platform can personalize content recommendations leading to better user experience and increased engagement.,
Enhanced Community Engagement: The community engagement tools, such as forums and comment sections, will allow readers to engage with each other and contribute to the platform. This will help to build a sense of community and fosters loyalty.
User Data Collection: With a robust login system, the platform can collect user data such as demographics, preferences, and behaviour. This data will be used to improve content recommendations, personalize marketing efforts, and develop new products and services.
Monetization Opportunities: By creating a membership-based login system, TNM will generate revenue through subscriptions. This will also provide an opportunity for targeted advertising to a specific audience.
Conclusion
The News Minute (TNM) has successfully adapted to the challenges of digital disruption in the media industry by prioritizing community engagement and implementing a membership-based revenue model. With the help of Zyxware, TNM now has a framework to leverage reader behaviour data to deliver a personalized and engaging user experience. TNM's focus on search engine optimization and personalization strategies has helped it become a reliable news source for the South Indian diaspora in India and abroad. Overall, TNM's success story is a valuable lesson for media organizations looking to thrive in the age of digital disruption.
Let us know if you are interested in a conversation with our digital consultant on increasing reader revenue on your media platform using personalization.