Marketing Strategy
Conversational Marketing: Is It What I Think It Is and Can It Boost My Business?
What appears in your mind when you hear the word 'conversational marketing?'
How does it look?
Well, it most likely looks something like the image below. Obviously!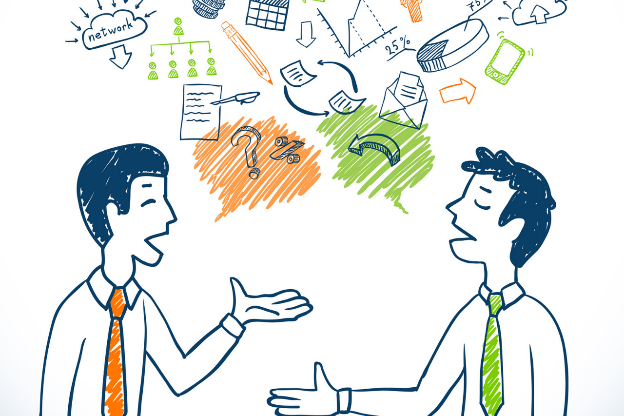 If it's that obvious, why discuss it?
And why did you then land on this piece?
The reason is that you want to know about it in detail.
Specifically, what is it, and how it can help you engage your target audience, convert more of them and boost your revenue.
Well, you will have answers to all these questions today.
Just relax. And stay with us.
What Exactly Is Conversational Marketing?
Conversational marketing is the type of marketing that involves real-time and casual (read open) conversations with your prospects. However, this will be planned to the last detail, unlike our day-to-day conversations.
For your conversational marketing to be successful, you will need the following:
Careful detailing of the problems that make people start a dialogue with you.
Who are they? (demographics, profession, lifestyle, on and offline behaviour)
How did they find you?
What ideas do they already have about possible solutions?
What existing solutions do they presently use to solve their problems?
How do they use those solutions? (steps, methods, etc.)
What challenges do they face when carrying out those steps?
How are you different from those solutions?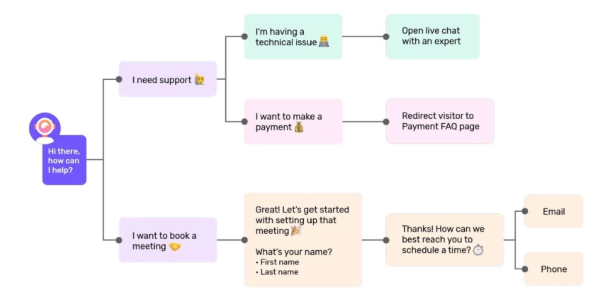 When you have these ready, you will know how the conversation may go. And prepare for every turn.
What Are Online Chatbots?
Conversational marketing and chatbots are like smartphones and apps. You can't have one without the other. Simply put, online chatbots are software designed to converse like a human being. And these days, these are getting more sophisticated. In addition to taking voice and text input, they can learn to formulate responses thanks to AI and NLP (natural language processing). And these are more common than you think. Remember SIRI, Alexa or Google Assistant? They are the most prominent examples of chatbots. Here is a video showing Google Assistant scheduling an appointment at the hair salon.
What Exactly Is the Role of a Chatbot in Conversational Marketing?
You are probably thinking about how software can handle a complex business conversation.
Well, businesses are getting increasingly dependent on chatbots to enhance their customer support quality. And it's paying off. According to a study, over 6 out of 10 people love the instant response that chatbots can deliver 24/7.1
But is that all a chatbot does? Or there is more?
Let us clarify.
Suppose you have a business that sells spare parts for car engines.
Now, a prospect just started a chat on your website.
She is looking for casings and pistons with detailed specs.
Initially, the chatbot will handle the responses to her questions.
These include greeting her, asking her what she is looking for, if those are available, etc.
In other words, it will try to gather enough info to categorize the chat.
The categorization can be based on:
Which human expert can carry the conversation forward?
Does it require an immediate response?
Does a prospect need some more info to make a decision?
These categories will span a diverse range depending on the business.
 5 Benefits of Conversational Marketing
In other words, you want to know how exactly conversational marketing can help you boost your business growth.
The following are the five significant benefits of conversational marketing that you need to know
1. Improve Your Conversion Rate
Suppose 100 people start a live chat with your business on your website or Facebook page.
Let's say your current conversion rate is 1.0%. One in every ten people who land on your website makes a purchase.
Your conversation rate will rise if you provide a positive (and instant) live chat experience. A study by Kayako has found evidence of that.
According to their study, 8 out of 10 businesses had experienced a spike in revenue and repeat purchases when they started to use well-planned conversational marketing.2
2. Understand the Pain Points of Your Customers Better
In addition to boosting your conversion rate, conversational marketing helps you understand your customers' and prospects' pain points and expectations.
Here is how that happens.
When using live chat, people talking to your business will feel relaxed. That means they will express their needs and expectations in more detail. The pressure to be formal or formulate a proper question isn't there.
The result?
You will have a better understanding of their problems. Not only that. You will also know which of your products will solve those.
3. Provide Personalized Customer Support
Remember the Google Assistant scheduling a haircut appointment? Well, that indicates how advanced and sophisticated chatbots have become, thanks to machine learning.
AI-enabled chatbots allow you to provide a custom response to each person who initiates a chat on your website. That makes the conversation friendly and easy. About 4 out of every ten people find that positive. 3
4. Enjoy the Benefits of Word of Mouth
If you offer friendly customer support through instant chats, your customers will talk about you online and offline. And when that happens, more people will be flocking to your website or social pages. 
This phenomenon is nothing new. For instance, a study on brand communication by Nielsen has found (and they are not the only ones) that over 90% of people trust recommendations from their family and friends.4
5. Boost Customer Loyalty
Every business on earth wants its customers to be loyal. Conversational marketing helps you do just that. And you don't need us to clarify the logic behind it.
You make your customers feel important through conversational marketing (read response within 1 minute).
When they feel that, more of them will be happy to do business with you. According to a study, this number can rise by 50%.5
Which Industries Use Conversational Marketing the Most?
Many businesses are adopting conversation-oriented marketing because of the benefits of conversational marketing. However, some companies will benefit more from this personalized marketing channel.
We have shortlisted 8 of them below:
Real-Estate
Conversational marketing paves the way to buy and sell real estate properties more smoother. Real-time chats allow agents to share an interactive 360-degree view of properties and comparison-based content with their leads. As a result, both the agent and the prospective buyer save time and effort.
Financial Industry
One of the most effective tools in the toolkit of businesses in the financial industry is the live chat feature. Whether B2C or B2B, leads will have many queries. Maybe they are having trouble with their accounts, checking or transferring a balance, inquiring about a new payment method etc. People usually have urgent needs for such information and will like you more if you address them fast. Live chat tools, whether they are operated by agents or bots, allow these businesses to manage them in minutes.
Hospitality and Tourism Industry
When making a reservation or inquiring about a new spot trending on social media, gone are the days of waiting for hours or days. If a hotel or resort doesn't respond fast to prospects' queries, they will move on to the next best one unless yours is the Ritz Carlton or Hilton. All the more reason to get on the live chat bandwagon.
Education Industry
Because of the COVID-19 pandemic, most academic institutions have gone online. Despite things getting back to normalcy, they are seeing increasing online activities from both teachers and students, especially regarding vital information like application deadlines, available programs, fees, and more. And they expect to get this information through a live chat instead of navigating through hundreds of pages on the school's website. Online course providers are adopting conversations more since more people use their platforms.
Automobile Industry
How does it feel to have a sales assistant at every step of purchasing a car? Helpful and comfortable, of course. And that's why car dealerships are increasingly adopting multi-channel conversation for marketing and relationship management purposes. Through AI-powered chatbots, they can now better understand their leads without worrying about uploading data to their CRM software. Whether scheduling a test drive or checking maintenance costs, online conversations in real-time allow these businesses to convert and retain more people and boost their revenue.
Pharmaceuticals
Pharmaceutical companies are not lagging in adopting conversations as a marketing tool. In the B2C sector, it usually involves letting people know which medicines are available, the possible side effects, their prices etc. In B2B, the queries get more complex. Because of rising competition and the shrinking patience of people, live chat software and real agents play a pivotal role in this industry. According to multiple studies, the dependency of pharmaceutical companies and retailers on conversational marketing will only soar upward.
Public Sector
Since government websites tend to be content-heavy, finding answers to questions there can be difficult. Thanks to live chat software, public service agents can tend to more people and deliver vital information when needed. For governments, the benefits of these chatbots are enormous.6
The biggest one is that the public office will have a better impression on people. Second, their query management process will be at least ten times more efficient. Third, they will be more aware of people's pain points in their constituencies. That puts them in a position to address them effectively.
Ecommerce
According to ThinkWithGoogle, over half of all online buyers perform some form of research.7 Doing so enables them to find the best choice possible. That means they will have diverse questions about your products or services.
You can instantly answer these questions with customer-focused content and live chat software.8 The better (and faster) you answer these questions, the higher the chance of people purchasing your merchandise or service.
Tip: The longer you keep a person engaged in conversation and share valuable information, the greater the possibility of a purchase. It goes beyond that. By anticipating the needs of your prospects, you will be able to say the right thing at the right time. That, over time, solidifies your brand authority and helps you reap the benefits of word-of-mouth.
Conversation Leads the Way Towards Growth
Be it phone, text message or live chat on a website, conversations are getting increasingly common in the business arena. These enable businesses to inform their potential customers about new products, services, offers and other valuable information. That means injecting leads into their sales funnel takes less time.
With the rise of the sophistication of AI, that time is no longer imaginary when a live chat software will be able to conduct all sorts of conversations and convert a lead into a paying customer in record time.
In our subsequent discussion, we will discuss the components of a successful conversational marketing strategy and how to implement it.
Subscribe to our newsletter, and you will be the first to have eyes on them.
Stay well. Stay safe.