Business Solution
5 Stats that Reveal AI Chatbots as an Essential Tool for Business.
AI-based conversational interfaces are disrupting the customer service industry by providing options for end-users to get information in real-time without human assistance. The adoption rate of AI chatbots is swiftly increasing and the accuracy levels of handling natural language conversations are improving drastically.
Here are the numbers that say "AI chatbots are not an add-on any more but an essential tool for any businesses."
15% of American adults have used a chatbot. 16% own a smart speaker like Amazon Alexa. 
64% of internet users say 24-hour service is the best chatbot feature they love.
35% of users predict they would use a chatbot for a complaint, a problem, or to get detailed answers or explanations 
55% of users say they would most enjoy getting an instant response and answers to simple questions from a chatbot
75% of users expect to receive an instant response from chatbots
The infographic outlines how a drupal website is a can be used as a data source for an AI Chatbot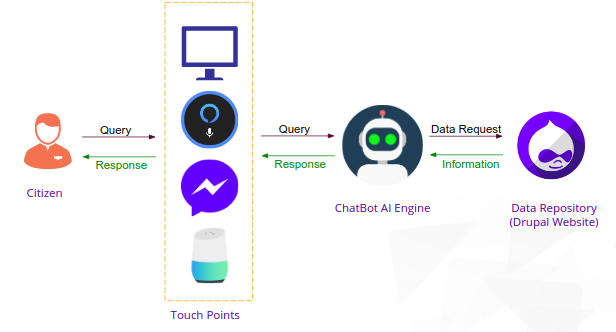 Drupal with its advanced capability to model data makes it a suitable platform to create a content repository that can act as the primary data source for an AI Chatbot. Zyxware can create a Drupal website that can also be used as the primary data source for an AI Chatbot. Get in touch with us to know more.