Marketing Strategy
Five Marketing Campaigns to Avoid This New Year
The festive spirit adds a sprinkle of festivity to the air. The holiday season is critical for e-commerce as most consumers usually plan to spend more than usual.
On average, holiday sales have grown by 4.4% in the past five years1. According to the National Retail Federation, sales during November and December were projected to rise to 8.5% and 10.5%, respectively.
A well-thought-out marketing campaign can make a product stand out and boost sales. On the other hand, a poorly planned and executed marketing campaign will cast a product in a bad light. This article will discuss five marketing campaigns to steer clear of this holiday season.
Why Have A Marketing Campaign?
Marketing campaigns largely contribute to boosting company image and brand awareness2. A well-executed marketing campaign ensures that the target audience is exposed to your brand.
A good marketing campaign will get people talking, attract new customers, and boost sales3. As long as people speak, they will bring in other buyers and give you free press. A marketing campaign can also be designed to be budget-friendly.
Why Do Marketing Campaigns Flop?
There are numerous reasons why a marketing campaign fails4. Often, companies and advertisers focus more on being unique and sideline the consumer's needs. The creative process is essential, but consumers' needs should always come first.
"You are competing with every piece of content ever made for every person's attention. You need to be entertaining. Don't outsmart. Out entertain." - Dolf van den Brink | President and CEO of Heineken USA
Marketers can also miscalculate the timing. It is vital to give consumers what they need when they need it. Marketing or launching a product at the wrong time has disastrous consequences.
Marketing Campaign Strategies To Avoid This New Year
Not every marketing campaign strategy is a good strategy. Some marketing campaigns were epic failures because of poor planning, bad timing, and more. Let's look at a few marketing campaigns to avoid this New Year, with examples.
1. Utilizing Poorly Thought Out Goals and Plans
Some ideas sound revolutionary in the boardroom, but disaster strikes when they reach the consumers. On the other hand, some marketing strategies are not well thought out. One such example was the McDonald's marketing campaign5 in the UK in 2017. 
McDonald's was accused of using grief as a tool to market their filet-o-fish sandwiches. The ad showed a boy reminiscing about his late father to his mother. One of the things the young boy had in common with his father was a taste for filet-o-fish sandwiches. This marketing campaign was said to trivialize grief and was labeled as distasteful.
On the other hand, the "WestJet Christmas Miracle" in 2013 stands out6. The Canadian airline made wishes come true, and no other brand has managed to outdo it so far. The airline combined generosity and technology to create an unforgettable memory for passengers.
2. Poor Timing
A marketing campaign strategy can be excellent, but it will be a massive flop if implemented at the wrong time. Timing can be as simple as picking the right season to launch a marketing campaign. It becomes more complex when marketers have to consider the general prevailing atmosphere. 78% of internet users research products online7, so a marketing campaign flop can have devastating consequences.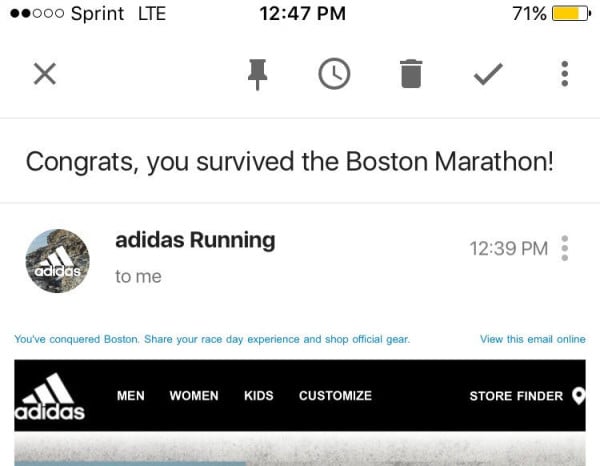 An excellent example of a marketing campaign that flopped because of bad timing is the Adidas Boston Marathon Email8. In 2017, participants in the Boston Marathon each received an email that would have been normal at a different time.
"Congrats, you survived the Boston Marathon!"
A message like the on the heels of the Boston Marathon bombing of 2013 was bound to generate controversy. As expected, it did and was consequently shelved.
3. Disregarding the Needs of the Consumer
A unique and creative marketing campaign is an excellent idea. The problem comes when creating an impressive campaign overshadows the consumer's needs. Neglecting the needs of the consumer always fails to convey the desired message.
An excellent example of this is the Dove "Real Beauty" Campaign9. This campaign is generally quite successful. It has been promoting body positivity and showing women of all shapes and sizes in a good light. So what went wrong?
In England, Dove debuted a limited edition packaging which sparked outrage. The campaign would have been successful if more effort had been put into the design. The campaign promoted self-consciousness and had the opposite effect of what was intended.
4. Lack of Consistency
Changing a product and experimenting with new tastes is not necessarily bad. After all, the holiday season may be the right time to try something new. Trying something new becomes a problem when you replace an already excellent product with something subpar. It was the case with Coca-cola in 1985. Coca-Cola became highly competitive and attempted to outshine Pepsi. 
At first, Coca-Cola criticized the sweeter Colas and then changed their minds10. Instead of focusing more on out-of-this-world ad campaigns, Coca-Cola changed its formula. Consumers were less than impressed. Coca-Cola had to switch back to its original formula and discard the new taste.
5. Jumping on Hot Topics to Market Your Product
Piggybacking on hot topics to sell your product may seem tempting, but it is a dangerous move. Using hot topics as part of your marketing campaign can quickly go sideways, as many have in the past. As a brand using trending topics, you risk offending certain groups of people and sparking outrage.
An excellent example of this is the Pepsi commercial in 2017, which exploited the Black Lives Matter movement11. The ad was met with outrage. People stated that it made a joke out of grave social issues like police brutality, racism, and the Black Lives Matter movement. The ad was a marketing nightmare for Pepsi and was later pulled.
We at Pepsi believe in the legacy of Dr. King & meant absolutely no disrespect to him & others who fight for justice. pic.twitter.com/rM8W8i0Euu

— Pepsi (@pepsi) April 5, 2017
We've looked at some marketing campaigns to avoid this New Year and highlighted how they went wrong. On a lighter note, let's highlight one of the most iconic marketing campaigns to grace the marketing world. 
The Nike "Just Do It" campaign made marketing history. In 1988, Nike sales were grossing at $800 million. The "Just Do It" Campaign caused sales to skyrocket to over $2 billion in less than a decade.
Final Word
In marketing campaigns, the biggest goal is to reach the consumer positively12. Some marketing campaigns in history fell short of this goal because of reasons that range from bad timing to trying to implement unrealistic plans. 76% of marketers do not use behavioural data13 when conducting marketing campaigns.
As a marketer this New Year, it is advisable to avoid the marketing campaigns we've highlighted above. Well-thought-out marketing campaigns implemented using the necessary tools will always work better. It is also advisable to have other eyes assess an ad before releasing it to the public.
Resources: