Digital Marketing
What, Who, Why & How of Digital Marketing
Marketing is one of the oldest professions in human civilisation. Thousands of years ago, it let the other tribes know about tradable resources. Today, the digital age transforms the purpose of presenting your business online. 
"Instead of one-way interruption, Web marketing is about delivering useful content at just the right moment that a buyer needs it." – David Meerman Scott.
Whether a person is searching for a physician or simply browsing their favourite Avengers merchandise, the internet can make things easier for them in almost every aspect. Thus, the trends in marketing should follow accordingly.
What is Digital Marketing?
Any marketing efforts that take place online constitute digital marketing. The process involves utilising assets on the internet to connect to the relevant audience to promote a service/product.
As a business, your online footprint determines the audience you pull.
Your website, social media presence, and digital ad strategy speak volumes more than the store layout or office space.
Why is Digital Marketing Important?
Investing in online marketing can fetch you a wide range of benefits:
Digital marketing is more cost-effective.
Businesses accurately measure the degree of success in each campaign.
You can focus on just the more likely prospects to purchase your products or services.
Digital marketing levels the playing field for SMBs and big businesses alike.
Brands can engage with their audience at every stage.
Online marketing allows you to edit any aspect of your campaign on the fly.
Types of Digital Marketing
You can learn about the most popular types of digital marketing from the list below: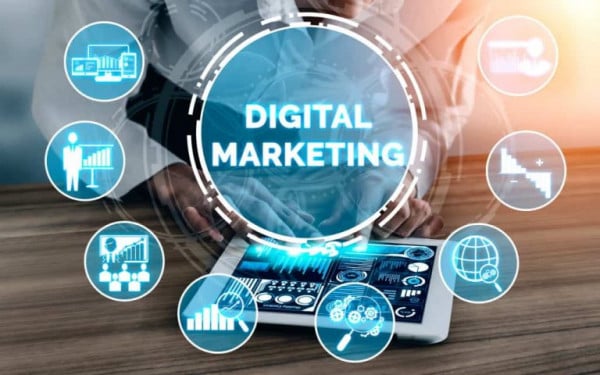 Search Engine Optimization (SEO)
SEO entails optimising your website to rank higher for any search engine, should your audience search for specific terms online.1 It is an organic (free) way to increase traffic to your website. 
Content Marketing
Content marketing involves increasing brand awareness by creating and promoting content assets. Blog posts, infographics, tutorials, and ebooks constitute content marketing.
Video game fans recognise IGN as a leading review site. The brand enhances its image by publishing various articles regarding the latest trends in the gaming industry.
Email Marketing
Promoting products or services by sending emails to a designated audience pool is called email marketing.2
Email is one of the most widespread types of digital marketing due to its high ROI.
Ripcurl's "Join the Revolution" email campaign is a great example of a successful email marketing campaign.3 .
Social Media Marketing
This type of marketing involves using social media channels to promote a business.4 This activity consists of creating content that would pertain to the people's interests. Facebook, Instagram, and Snapchat are some of the best social media channels. 
Apple's #ShotoniPhone is a great example here.5 . The company urges customers to share their pictures on social media and features them in their marketing campaigns.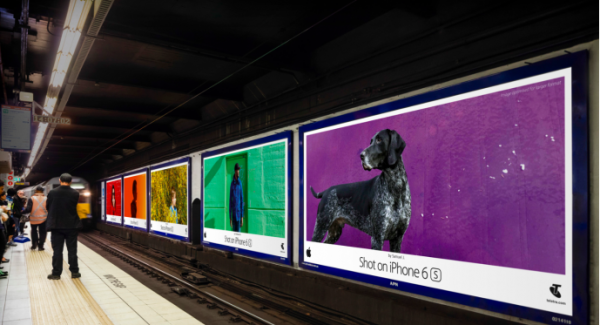 Pay-Per-Click
If you connect to any online platform to increase the reach of your business, then you are following a pay-per-click (PPC) model of digital marketing. Facebook Ads and Sponsored LinkedIn messages are both good examples of PPC.
Toyota is a brand that has had real success through this method.6 . The manufacturer conducts various social media campaigns regarding its car's features.
Inbound Marketing
Marketing to customers at every stage of the buying process is known as inbound marketing.7 It lets the customer know about other suitable services/products they can use themselves or refer to others. Harley-Davidson is a brand that does this exceptionally well.
Whenever you visit Harley-Davidson's website, the company doesn't just sell you a bike but a way of life.
Affiliate Marketing
You give out commissions to the outlets that promote your product through their platform through affiliate marketing.8  
You can find a great program like this with HostGator. The firm provides dedicated cloud-based servers that its affiliates can recommend to other organisations. HostGator pays a specific amount for each conversion.
Sponsored Content
Sponsored content involves other organisations or entities to refer your products or services in exchange for a fee. Influencer marketing also comes under this wing. 
Raid: Shadow Legends is a video game that saw major success with this form of marketing.9 .
Online PR
In online PR, you promote a brand by covering any major milestone or activity online. It can include reaching out to online publishers or news agencies.
Nissan is quite prevalent in organising successful online PR campaigns.10 . The automobile manufacturer reaches out to various publishing firms for its upcoming launches.
Instant Messaging Marketing
WhatsApp is a standard tool for many companies. It is one of the fastest ways of reaching any potential leads online. Although, messengers for Facebook and Instagram can work just as well.
Domino's BOGO (Buy One Get One) campaign is an excellent example.
Search Engine Marketing (SEM)
Search engine marketing involves paying a search engine to improve your website rankings for specific keywords or search terms. Two of the most popular SEM tools include Google Ads and Bing Ads.
Mercedes-Benz used Google Ads to highlight the comfortable hatchback for a younger crowd. As a result, it saw successful sales for its new A-Class in the UK.11 .
How Does Digital Marketing Work?
Since digital marketing involves a direct mode of communication with your audience, it is imperative to follow a set of pre-defined steps:
Establish your marketing goals.
Identify your target audience.
Build a definitive strategy involving both paid and free campaigns.
Research the appropriate keywords and search intent.
Create the required content.
Optimise for portable devices.
Analyse the response and refine the campaign.
How to Generate Leads in Digital Marketing?
You can generate leads in digital marketing as per the marketing funnel.12 . It can happen at any of five stages: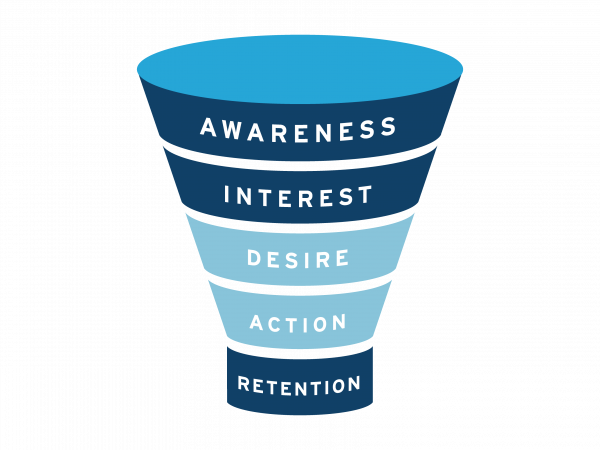 Awareness
The prospect in this stage should know about the brand and the products/services. You can generate leads through this stage via blog posts, SEO, SEM, and social media marketing.
Interest
The prospect should show interest in the product or service.
Leads that belong to this stage are susceptible to a response from PPC campaigns, newsletters, and email marketing.
Decision
Now that the prospect is aware of what your brand offers, they will analyse the competition to observe all available options. You can entice them by highlighting certain features or providing exclusive offers.
Action
The prospect should be ready to buy from the concerned business. You can encourage leads from this stage by presenting them with testimonials and case studies.
Advocacy
The prospect is already a customer. You can gather leads from this stage by re-marketing with new products or allowing them to explore other services your brand offers.
Conclusion
Congratulations! Now you know all the basics of digital marketing. What are your thoughts on the emerging trends in this field? Let us know through the comments below.