Digital Business Strategy
Fast-Selling Digital Marketing Strategies for Publishers
The digital publishing industry has witnessed a remarkable boom since 2018.
Statista, an online data repository, recorded an unprecedented estimated total of $122 billion of book sales in the world1  in 2019. It is more impressive that the U.S. digital publishing industry is expected to grow from an estimated $10 billion in 2020 to $35 billion by 20252 .
The revenue question here is, how much of this revenue is routed to your bank account?
But before we get to the revenue question, there must be something you should be getting right, or you would be running the risk of being edged out of the future.
As a book publisher, are you getting your digital or online marketing strategies right? Let's dig right in to evaluate what you should be DOING or what you should NOT be doing.
Four Digital Marketing Strategies for Publishers
1. An Author's Website: Designing Not Just a Website
As an author or publishing house that is seeking to drive up digital sales and following, your website must be an exhibition room of pure but simple art. Yes, it is totally understandable that Amazon, eBay, Twitter, and others will help you generate lots of traffic, sales, and following, but there has got to be "a place of your own".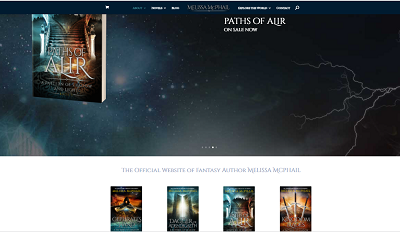 Melissa McPhail's website is a beauty to behold and check out all her books in a single place without having to scour several pages on Amazon to get them. 
Here are a few things you should strongly consider in building your website or transforming it to a state-of-the-art author's dome:
Simplicity: Readers easily get intimidated by so much text and pop-ups on a website. With so many competitors and a lack of patience on the part of readers, it is best to keep much of the text on other pages and the designs to a classy minimum.
Clarity and Navigation: Let's face it - a clumsy website is no reader's fantasy. Your website should be easy to move around with clear Call-to-Action links. Too many CTAs would also distract the reader from the page's content. Consequently, links to other pages should be reduced to the most important only.
Style & Branding: It is also vital that your website not betray your writing style or principles. You should treat every communication on your website (including pop-ups requesting for sign-ups), logo, and colors as an expression of your style and brand.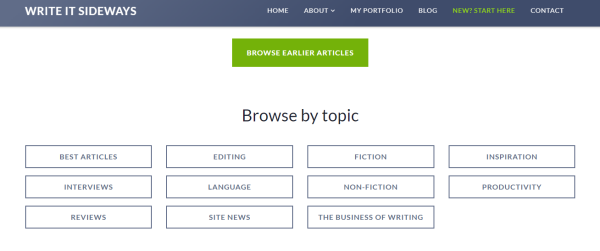 The message here is that your website should be the "headquarters" of all the traffic generated because there you can better organize the way users see, perceive, and receive your content.
Why? Because your character and brand as an author or publishing house is everything.
2. An E-mailing List & Irresistible Content
The only thing better than eye-watering graphics on your pages is great, insightful, and relatable content. This is why your mailing list is one of your most valuable assets.
Your e-mailing list helps to separate web or page viewers from your readers or fan base. However, providing irresistible content via your channels (i.e., blogs, social media, podcasts) has a lot of benefits that include:
Building a real readership community and dedicated following
A ready target audience, easier marketing, and conversion rates
Attracting viewers to subscribe to your mailing list or purchase your published works
Exponential growth in readership due to digital and traditional word-of-mouth recommendations
Intellectual engagement of readers and viewers alike
One of the most convincing ways you can get viewers to sign up to your email list is to use the carrot approach i.e., discounts, freebies (ebooks, coupons), promo entries, etc.
In case you needed more convincing on organizing your digital marketing strategy around your email list, Bluecore reported from a survey that 63% of consumers (Millennials and Gen Z mostly) responded that they checked their marketing emails3 and made purchasing decisions based on the content. 
Litmus goes on to report that email marketing generates $36 for every $1 spent4 , more than any other channel.
Selah.
With the sporadic development of tools for building an e-mailing list, you can easily find and integrate a tool to your website and other channels for free or a very small subscription fee.
Here are a few recommended tools namely Mailchimp, Aweber, OptinMonster, PopUp Domination, etc.
3. Selling on Retail Platforms
Although this is a no-brainer, it is still important to mention it here in case you have not tried it out or you are not maximizing these platforms. For instance, Amazon has an average of 2.5 billion visits5 to its sites per month (going by 2021 statistics).
There are lots of retail platforms and the good news is that you can digitally market on almost all, except you are restricted by your publishing contract.
This option may not be available for publishing houses since authors rely on their reputation to market their books using their platforms. However, there are platforms that offer personalized page hosting for small publishing companies to increase their reach (aggregators - Smashwords and Draft2Digital are good examples). 
4. Opening Up Your Stock with Search Engine Optimization
In 2021 and beyond, none of your content (except marketing emails) should go out without being dressed in SEO.
The Forbes website has 99% of its search traffic6 from organic search keywords while less than 1% is from paid searches.

Just in case you have not been generating enough traffic to your website or content on other platforms. It is not too late to engage in organic SEO. Basically, SEO makes your content accessible to search engine users that are looking to read or purchase the kind of content that you sell. 
With the right keywords and placement on retailing platforms, self-publishers stand a chance of appearing on the first three searches on Google or other search engines. As you would often notice, most of the top-ranking results are from popular and trusted domains.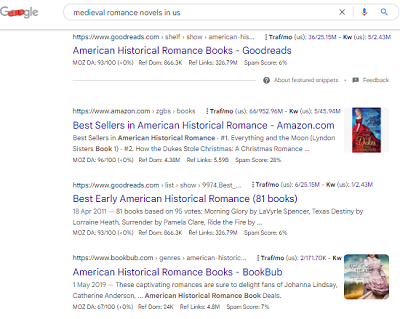 Like an old marketing adage says, "a small shop in the middle of town is better than a big store on a hill in the middle of nowhere". With SEO, you make your books or ebooks visible to the digital world with ease. 
There are several ways and techniques to improve your SEO marketing strategy and some of them are: 
Keyword research 
Keyword placement
Link building
Use of meta titles, meta descriptions, and headings
Use of images, infographics, and videos 
BrightEdge's research on web traffic revealed that 68% of online experiences7  began with an online search. Without SEO, it will be difficult for authors to cultivate organic readership communities from online searches. 
Leaving You with This Charge..
Digital marketing strategies are fast becoming essential for book publishers and the publishing industry as a whole. The expansion of many "traditional" publishing companies like Macmillian and self-publishers to online marketing is proof that the audience and revenue are only going to get bigger. 
However, only those doing it right are going to win big.
While this is not to say that print books are going out of fashion, it is more fashionable to expand your income sources by exploring rewarding ebook marketing or digital marketing strategies for authors.