Digital Business Strategy
Analyzing Industry Trends Using Macro and Micro Factors with an Analysis of The News Minute
The Oxford dictionary defines the environment as "the surroundings or conditions in which a person, animal, or plant lives or operates." Even inanimate organisms thrive in their environment. Similarly, a business also does not operate in a vacuum. Any company/firm is affected by a myriad of factors that determine the business's growth, decline, or failure. These factors force organizations to pivot from their initial strategy.
In broad terms, we can divide this environment into two categories:1
The micro-environment
Small forces within the company affect its ability to serve its customers and influence the functionality of a particular business itself.
The macro-environment
Larger societal forces affect the microenvironment and the operation of all existing business entities.
The two categories might be different. However, both are fundamental to comprehending the industry in its whole setting. One must be educated about the business climate to have the option to follow and grasp what different variables mean for the industry.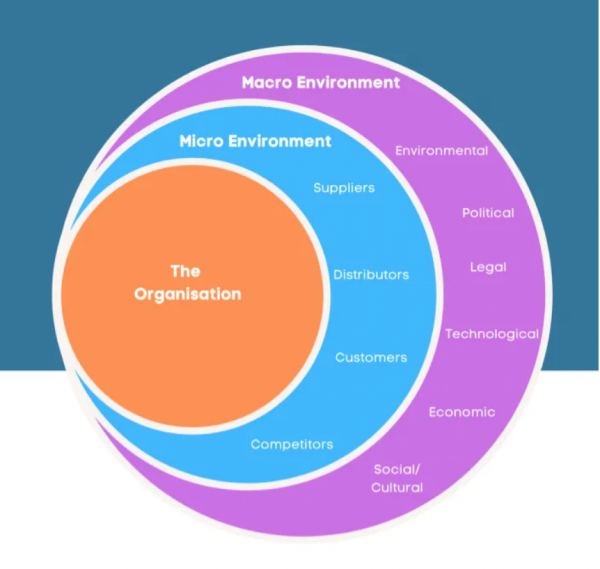 Microenvironment Factors
Micro environment2 refers to the environment in direct contact with a company. It affects the routine activities of a business straight away. It is a collection of forces or factors close to the organization and can influence the performance and day-to-day activities of the firm. The six microenvironment components are Company, Suppliers, Marketing Intermediaries, Competitors, General Public, and Customers.
Macro environment Factors
The macro-environment3 refers to the major external and uncontrollable factors influencing an organization's decision-making. A company does not operate alone in its business environment but works in a larger context. It comprises forces that provide opportunities but at the same time also pose threats to the company. The macro-environment components are Demographic, Economic, Natural, Technological, Political, and Cultural.
Zyxware's 6-year-old partnership with a major media publisher, The News Minute, on their #DigitalTransformation journeys is a perfect illustration of how a digital news business aided by technology adapts to changes in macro and micro environments to create new opportunities for growth and profitability.
The News Minute Story
The News Minute is a digital news provider that reports and writes on Indian issues, exclusively focusing on the five southern states. Covering the truth and stories of society, TNM aims to cover trustworthy news without confining journalism behind a paywall. TNM is one of India's most-read independent digital news media organizations, with over 13 million unique monthly readers. With a sharp focus on south India and a progressive approach to news, TNM serves premium readers in all major Indian metros. TNM enables unlocking the power of digital storytelling through powerful narratives and reader-friendly content with massive reach.
For a long time, the media and entertainment businesses worked with a pretty clear separation between producers of the news and its audience.4 Journalists controlled not only what the news looked like but how it was distributed, either in print forms delivered to readers or through broadcasted messages that arrived on televisions and radios. But as the new age of digital news businesses like TNM entered the space, they were encountering a different reality where news organizations faced more intense competition for the audience's attention.5
Focus on Advertizement Revenue
More and more people were accessing news via digital media, and most mobile devices like smartphones relied on social media and other intermediaries regarding how they accessed and found information. As an entrant into this space in 2015, TNM had to conceptualize and execute a sustainable model that would deliver on the founders' purposes. It began with advertising revenue as the primary source of financial sustainability and delivering accurate news as the founding purpose. Naturally, TNM had to consider a host of micro and macro environmental factors in the model and execute its business accordingly.
The typical macro and micro environment factors that affect a digital news organization like TNM are suppliers of news material, employees, marketing, intermediaries, competitors, and most importantly, the readers. 6
For the present analysis, we will discuss how TNM adapted to the dynamism of one macro environment variable—reader and reader environment.
Reader and reader environment
In the last decade, readers have been operating in an environment where a limited number of large technology companies enable billions of readers across the world to navigate and use digital media easily and attractively through services like search, social networking, video sharing, and messaging.7
Consequently, these companies play a more critical role in (a) the distribution of news and (b) digital advertising. These organizations use cookies to understand the user's preference and provide content in recommendations and ads that lead to more conversion. Digital advertising alone soared to 135 Billion$ worldwide in 2021. 8
Data Privacy and Protection
With concerns about data privacy and protection, opposition to cookies arose worldwide due to legal action by governments. Currently, 137 out of 190 countries are already engaged in some form of international privacy laws for data protection to ensure that citizen and their data have more rigorous protections and controls. These include GDPR (Europe), CCPA (USA), Personal Data Protection bill (India), and PIPEDA (Canada).9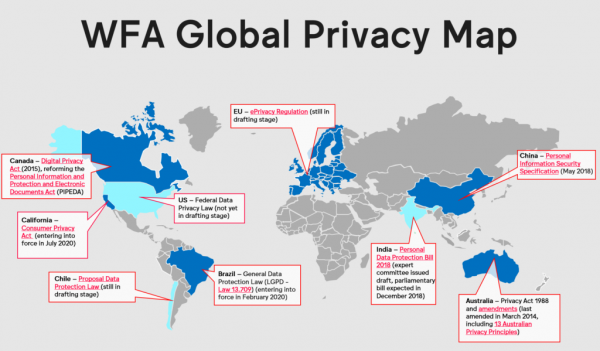 It made targeting users difficult and thus led to a decline in ad spending by advertisers. TNM had to search for another source of revenue. That led them to explore the possibilities of user-generated revenue. Thus was born the membership portals.10 The membership portal was a Google News Initiative Innovation Challenge Award winner.11
User Experience
The tremendous increase in competition for the attention of the internet audience, the exponential growth of the audience size, and the increasing screen time of the audience meant that a 'high choice environment' developed rapidly for readers.12 At present, there are a total of 692 million active internet users in India, including 351 million from rural India and 341 from urban India.13 Naturally, readers were in a position to look for news providers who would provide them with personalized content and a high-quality reader experience throughout the reading journey.
It meant that TNM had to adapt to this reader's expectations. It was the impetus for
a simplified onboarding process,
seamless payment,
membership management system,
a single sign-on implementation to access the app, website, discussion forum for paid members,
advertisement-free access to the TNM portal,
and mobile application.
All these capabilities were developed to fulfill users' requirements for a better reader experience and to improve reader engagements.
Some of these initiatives enabled TNM to capitalize on its readership amongst the larger and more active south Indian diaspora that emerged in the last decade.14 The membership program of TNM enabled the NRIs to stay in touch with their cultural roots through more profound engagement with the news, and it helped TNM to be at the center of a community of like-minded individuals spanning geographical locations.
Digital Media Growth
Digital media has shown tremendous growth in the past few years. The availability of cheaper, more affordable internet data charges by 2016, coupled with the introduction and rapid adoption of the 4G network by the telecom players, did the magic. Very soon, even 5G will be available to the Indian masses. The first internet-connected device in the lives of scores of people is now a mobile phone. Telecom players have started offering smartphones to customers at a nominal cost, with a subscription plan, making it a vastly adopted tech gadget in everyday use. This strategy will boost the consumption of content through mobile devices. Putting it another way, since smartphones are becoming more affordable, more non-urban households are owning them, and with access to cheap data, they are spending more time on mobile phones. While the urban population consumes anglicized media, the rural masses prefer news content in vernacular languages. Tapping into this new and growing market will require a new set of initiatives from TNM.
Read More on Reader Revenue Models for Online Media
If you are interested in understanding various models and tactics for reader revenue, please see:
Conclusion
The cultural aspect of the preferred language will have to be addressed head-on in such an initiative. Multilingual support will have to be a sine qua non for digital news websites. Sourcing vernacular, highly localized content will be a critical differentiator. TNM will have to begin with multilingual support for the news website and then build multilingual content syndication systems.
There will also be an imperative to offer more on the personalized reader experience front as the competition intensifies and markets break into micro-segments.
A set of initiatives that TNM will need to consider to address these fresh challenges are as below:
Partner with organizations to focus on reader revenue.
Understand the kind of audience that comes to their platform.
Personalized real-time messaging to push reader revenue.
Able to identify the information of readers and render more information to readers
Segment the audience into various buckets based on different criteria
Identifying the insights and making changes in product strategy.
As seen above, macro and micro-environment factors influence businesses, and businesses must account for these factors and shape their digital strategy accordingly. In the case of TNM, we are glad to have partnered with this journey over the last six years.

(With inputs from Thomas P. Thomas)