We are happy to announce that Zyxware is now a Featured Service Provider on Drupal.org, a select club of Drupal providers with only another 4 members from India. This is a recognition of our contributions to Drupal over these years. We thank all our employees who have helped make this possible through their sustained contributions and members of the Drupal community who have guided,mentored and helped us as we grew in the Drupal space.
One of the key reasons why we chose Drupal as our platform for delivering web based solutions was the freedom that Drupal gave to contribute back to the system. Another reason was the great community around the software. We have been true to the spirit of Drupal community and have been contributing extensively through code and other promotional activities. In recognition of our sustained contributions over these years we have been selected to be listed as a featured service provider on Drupal.org.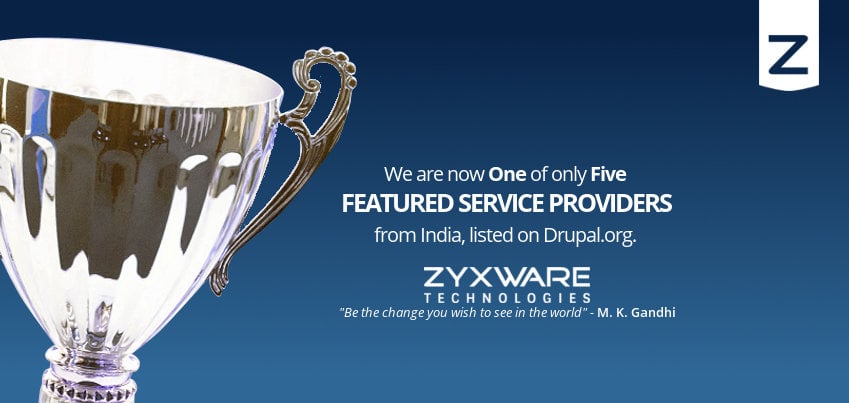 Zyxware Technologies was born out of a vision to contribute to the formation of a compassionate and just society. Aligned to this we have been contributing back directly and indirectly through our commercial and non-commercial activities in all our operations. We have been contributing code, opening up our internal tools and documentation, assisting and supporting people, guiding and helping other small companies, contributing to community projects, training and building competent individuals through our operations.
We have always tried to follow a policy of compete to contribute. One of the key parameters around which we competed in the market has been on how well we contribute back compared to other providers. Through our regular and sustained Free Software contributions we have emerged as one of a handful of well recognized Free Software companies in the state of Kerala.
With this recognition from the Drupal community we once again reaffirm our commitment to the philosophy of Free Software and to the Drupal community and we will strive to continue to contribute back to Drupal and to Free Software in general with even more focus and vigor.