Marketing Operations
AI Lead Generation Tools for Your Multi-channel Outbound Campaigns
Artificial Intelligence, specifically the rise of Generative AI and Large Language Models(LLM), has taken every industry by storm, and its impact on the marketing sector is beyond imagination. Artificial intelligence/Machine learning models can significantly improve the lead-generation process for marketers.
AI-powered tools bring efficiency to the entire life cycle of lead generation. From creating marketing collateral to identifying the right target audience and getting the relevant in front of them at the right time, AI comes into play. 
How AI Tools Help in Lead Generation
Typically, AI-powered lead generation tools help marketers to:
Improve work efficiency by automating various processes like data collection, lead scoring, outreach, etc. It uses AI algorithms to speed up the process and to identify potential leads.
Generate quality leads with sophisticated algorithms that can analyze the likelihood of lead conversion. These algorithms evaluate lead demographics, behavior, and engagement that allowing marketers to spend more time on prospective leads and use their resources more efficiently.
Generate personalized marketing content and messages based on customer's preferences. AI chatbots help customers with pre-programmed questions to ensure a personalized experience and that the customer doesn't feel unsupported. Hence, it can make interactions with the customer more meaningful and improve the chances of conversion. 
In this post, we will look at some of the AI lead generation tools that can be the perfect assistants to content managers and marketers in any business sector, specifically in personalizing their multi-channel cold outreach campaigns.  This list is not ordered in any specific criteria. We just put the tools in a random order.
7 AI Tools That Can Help Marketers in Outbound Lead Generation
1. Lyne AI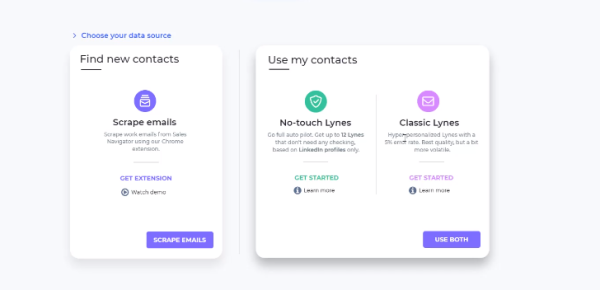 Lyne AI is an email marketing tool that allows you to seamlessly reach out to your potential leads. You can send highly personalized emails at scale, which improves open rates, and deliverability, potentially improving the conversion prospects. 1
Pros
Allows marketers to create tailored messages for a personalized experience.
Helps in extracting targeted leads from platforms like LinkedIn.
Saves time and identifies quality leads.
Cons
UI can be initially confusing to a new user.
Pricing
There is a pay-as-you-go plan as well as a monthly plan of USD 120 with a specific set of credits.
2. Amplemarket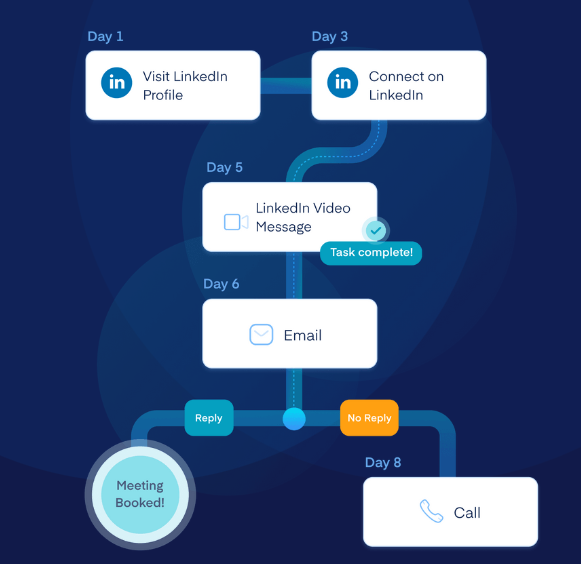 Amplemarket offers an AI-powered personalization platform that helps marketers drive more revenue. It's a multi-channel, data-native tool that lets you sell more to your prospects by boosting your reply rate up to three times. 2   
Pros 
Smart and Dynamic templates for Hyperpersonalized marketing emails.
Multichannel selling to engage with prospects on phone, social media, and email
AI-powered optimization to uncover powerful data insights.
Cons 
Can generate erroneous results while filtering large data
Pricing
No pricing plans are available on their website. 
3. FastOutreach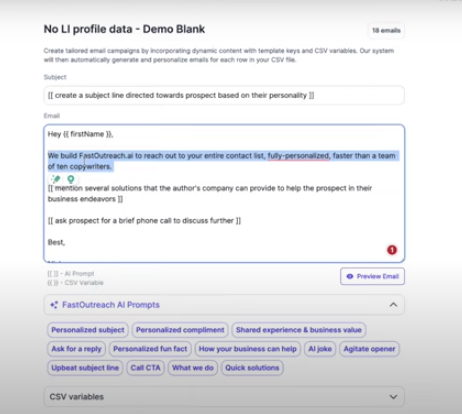 FastOutreach features an AI-powered toolkit that generates emails like a team of copywriters. It can create 1:1 personalized emails tailored for your customer's needs that will improve the reply rate within no time. It's scalable and incredibly efficient in assisting sales leaders and email marketing teams. 3
Pros
Allows bulk uploads for up to 10,000 LinkedIn URLs
Creates emails in your brand tone 
Cons
Pricing
Scalable pricing with no monthly fee
One email credit costs $0.20
4. Instantly AI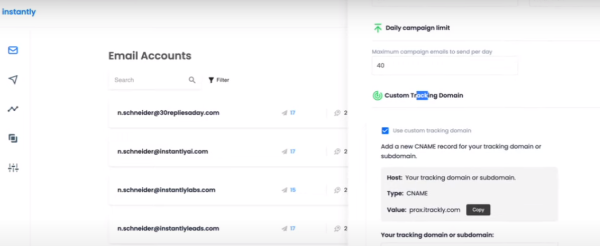 Instantly AI provides scalable email outreach solutions with its advanced AI tools. It offers solutions for cold outreach and campaign optimization that yield quality insights for marketers. With efficient filters, Instantly AI can help verify lead lists to ensure that the emails reach the target audience. 4   
 
We have extensively used this tool and got good results. Its email warm-up and other configuration options enable you to reach the inbox of the end user and increase the chance of getting a response. Its API allow you to pull the analytics data. We have created a script to pull the analytics data from Instantly AI to Google Sheets to make our reporting easier.
Pros
Email customization is based on the receiver's information.
Smart scheduling for better deliverability and response rates.
Centralized campaign management for email outreach streamlining.       
Cons
Relatively expensive 
Slow response
Pricing
| Plan | Monthly Billing | Annual Billing |
| --- | --- | --- |
| Growth | $37/ month | $30/ month |
| Hypergrowth | $97/ month | $77.6/ month |
5. Lemlist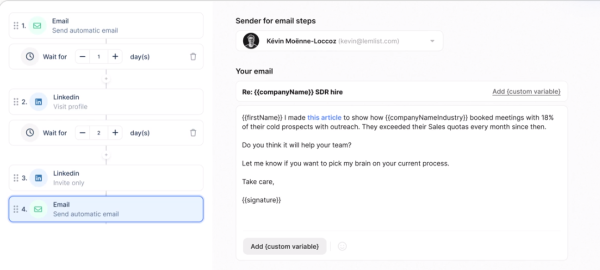 Lemlist lets you create personalized and tailored emails that help you reach your target audience on their favorite platforms. It offers scalable solutions for small businesses and enterprises. It also assists in creating follow-up strategies and provides a dedicated cockpit management system to manage your team's accounts. 5
Pros
Multichannel prospecting to reach out to leads on their favorite platforms
Seamlessly integrates with other business tools
Scalable personalization tools to create tailored emails
Cons
The user interface isn't too friendly 
Pricing
| Plan | Price |
| --- | --- |
| Email Outreach | $50/seat/month |
| Sales Engagement | $83/seat/month |
6. Smartlead.ai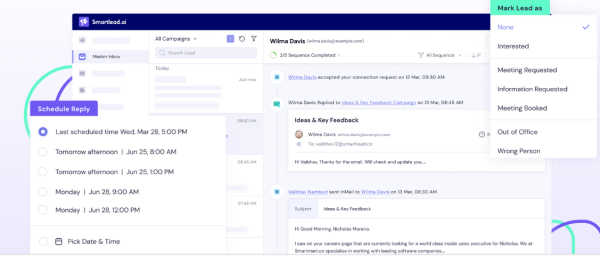 Smartlead.ai automates the lead generation and qualification process with AI-powered tools. It uses NLP and machine learning tools to create personalized outreach messages, and track performance during lead generation campaigns.
We have started using smart-lead recently. Their dashboard offers a way to add multiple users, and each user can manage their own campaigns (at an additional cost). The APIs are also good. Webhooks are available, which can be integrated with instant chat tools like Mattermost or Slack.
Pros
Qualifies leads based on demographics and behavior
Provides tracking and data analytics for lead generation campaigns.
Intuitive and user-friendly interface
Cons
Inability to shift-click for the selection of multiple data.
The inbox can get disconnected occasionally. 
Pricing
| Plan | Monthly Billing | Annual Billing |
| --- | --- | --- |
| Basic | $39/ month | $33/ month |
| Popular | $79/ month | $65/ month |
| Pro | $94/ month | $78/ month |
7. Clay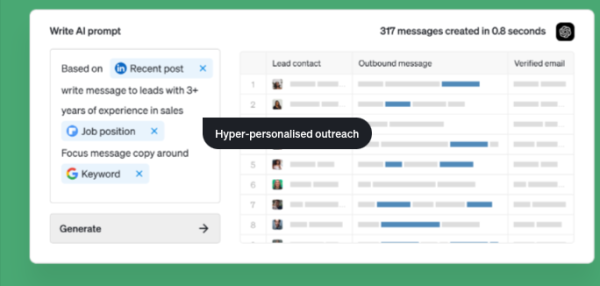 Clay helps businesses find, qualify, and engage with new prospects. It uses AI-powered tools such as natural language processing and machine learning to automate several lead generation tasks. It can create personalized outreach messages and seamlessly integrates with top data sources like Sales Navigator, LinkedIn, and HubSpot. 
Pros
Ideal option for low- or no-code marketers.
Collects data from various sources
Easy to operate, especially for beginners
Cons
Still under development, so there is room for additional tools and features
Pricing:  
| Plan | Monthly Billing | Annual Billing |
| --- | --- | --- |
| Starter | $149+ / month | $112+ / month |
| Explorer | $349+ / month | $262+ / month |
| Pro | $200+ / month | $600+ / month |
| Enterprise | Custom | Custom |
Conclusion
Marketers are always looking for ways to get in front of the right target audience at the right time. Multi-channel cold outreach campaigns(Email, LinkedIn and many other channels). The tools listed here will help you improve the response rate by personalizing your messages as well as optimizing the outreach model. I hope this is useful for you. If you need any assistance in setting up the infrastructure for a cold outreach campaign in scale, do let us know, and we will be happy to demo the setup we are using.