Digital Business Strategy
Top Seven Customer Acquisition Strategies
Customer is the lifeline for any business, this is why you need a proper customer acquisition strategy to help grow your business. The strategies may vary based on the size, industry, and budget of your company, but the end result would always be the same. Here are the top seven customer acquisition strategies.
1. Paid Marketing
Cross-Channel Acquisition
It's natural to use multiple platforms or channels for customer acquisition. When one platform offers you reach you can use a different platform to influence potential customers. However, it is important to have a unified strategy across these channels. You also need to check which channel is the most effective for you and how many conversions were influenced by this channel. Based on this and the keyword search that your target audience does, you can plan out your marketing strategy.
Advertisements on Different Forums
Advertising whether online or offline are both effective and a perfect balance of both will create better impact. But, as online advertising has become more effective, companies are majorly focusing on online advertising. Paid online advertising was a business of over $111 Billion in 20181 and has proved to be a powerful traffic driver. Having online ads on different platforms makes it easier to acquire and maintain more customers.
Co-Branding
Co-branding has created amazing results for Uber and Spotify for their 'soundtrack for your ride' campaign2. It helps both the companies gather their resources and use each other's customer base and influence. This helps them create and share new leads making customer acquisition a joint effort. 
Image: Uber and Spotify (Source: The Verge)
2. Email Marketing
This may seem like an old tactic but it is still an effective customer acquisition strategy. You can directly engage with your target audience and promote your content, product information or discount offers.
You send customized emails depending on the customer interaction with the website, for example, for customers that are exploring or haven't had any interaction, the email will consist of content that will initiate customer engagement. You can keep track of individual interest by monitoring click-through rates for the links or content you share. You can even understand what content is not working by tracking unsubscribed numbers. One of the best examples for use of this strategy is Amazon, it sends out reminders, reviews and promotional emails to its customers.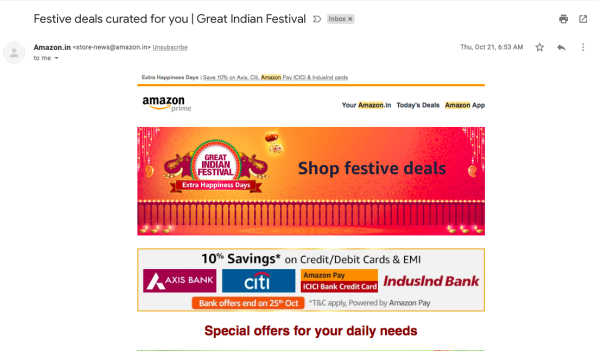 Image: Amazon 
3. Social Media Marketing
Social media marketing comprises majorly two methods: organic and paid. Organic social media helps develop company personality, boost brand awareness and share content to capitalize on virality factor.
Social Media Platforms
Today social media presence for any brand is important as it not only helps with customer acquisition it also helps create a brand image that will influence the customers. According to HubSpot3 74% of companies invested in 8 different social media platforms to advertise and promote themselves. From these 8 companies, Facebook was provided the highest return on investment (ROI). This makes it important to have a plan for using social media platforms, which will completely depend on your target audience and what platform they use the most.
Answer Quora Questions
If you can create an online presence on the question-based platform Quora, then you are successful in creating a brand image for yourself. The best example for this is SaaStr as the CEO Jason Lemkin generated more than 1 million views per month4 by answering two thousand questions on Quora. So by just answering questions about your company or product you can create an image of an industry expert and acquire more customers.
Publish Content on External Sites
One way to boost organic search is using referral tactics with your blogging tactics to increase the rate of acquisition. Using authoritative or relevant websites you can increase the volume of traffic on your websites through external sites and create brand awareness.
4. Content Marketing
Content marketing is one of the most effective customer acquisition strategies for all types of businesses. It helps the company establish its thought-leadership in the industry and gain customer trust with the help of content marketing. Starting a blog, creating videos and high-quality content and publishing white papers are some great ways to gain your audience's attention.
Leverage Video Content
Video marketing is on the rise especially since social media is one of the easiest ways to grab your customer's attention. It helps increase web traffic and sales and allows customers to get a better understanding of company offerings and products. Since people are better visual learners, videos are the easiest way to explain a company or product. Explainer videos and customer testimonials are informative and will give the final push for customers to make the purchase.
You need to ensure that there is a balance between informative and interesting videos on your web page and your social media account. You can also get influencers to create such videos and share them on social media or the company website.
Create High-Quality Content
Customers are more informed and by empowering them to make an informed purchase decision there is a higher possibility of gaining loyal customers. Creating engaging content that adds value, insight, and information will help you gain more customers. As the main aim of content marketing is connecting with or converting customers every piece of content that you release needs to be relevant to them.
Blogging
Blogging is a highly recommended customer acquisition method as it allows you to flex your industry knowledge and at the same time explore different topics. Using blogging you can continuously engage with your customers and create a brand presence.
5. Organic Search Marketing
After you have established your online presence through social media marketing and by creating insightful content you now need to focus on your online ranking.
Focus on Search Engine Optimization (SEO)
Focusing on SEO will help you improve your online ranking and make your content more visible or discoverable on search engines. SEO is a popular customer acquisition method as it is relatively easy and cost-effective. Some of the most basic SEO tactics include making websites mobile-friendly, using industry-related keywords and backlinks from authority websites.
Create Optimized Landing Pages
This is one of the most important and effective parts of organic search marketing as they help direct customers to your product or services. An effective landing page will offer valuable information and include compelling-call-to action that will initiate a conversation with the customer. You need to understand what your customer wants and then deliver on these requirements. You can also run A/B tests to optimize the landing pages and use different elements to drastically improve them.
Update and Republish Old Content
The reason you are doing content marketing is so that you can be discovered online. If your content is not updated or doesn't have relevant details it is likely that they will move down the search page. This makes it important to refresh old content and republish it to boost the ranking and website traffic.
Easily Accessible Websites
If customers can easily find what they are looking for then there is a more likely chance that the customers will keep coming back to your website. This makes it imperative for the website to be simple and easy to use. It should have a comprehensive description of all the products or services that the company is offering and should load as quickly as possible.
6. Affiliate Marketing
Run a Referral Program
Referral programs are often considered as the basis for any customer acquisition strategy. If someone recommends your company it establishes a trust factor for the other person and word-of-mouth5 recommendation is one of the most effective forms of marketing. You can offer your current customers benefits like discounts or extra features every time they refer your services or product to a new customer. You can also use similar discount tactics to give them a nudge to try out your services.
The best example for referral programs would be Dropbox that offers an extra 500MB of storage to existing customers for every friend they invite. It also adds the same 500 MB of storage to the new user's account.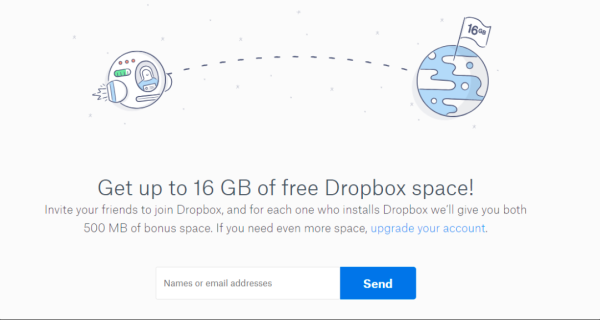 Image: Dropbox (Source: Referral Marketing School)
Do Giveaways
Customers need the motivation to keep buying from you, to win over more loyal customers consider offering giveaways, let them experience products or services first hand, use social media to run giveaway campaigns.
Attractive Discounts
You can use attractive deals and discounts to lure new customers and improve your competitive footprint. Customers love promotions and discounts, even reluctant buyers use the discounts and easily make the purchase.
7. Integration
Integration here means collaboration with another company to fill up a gap in their product or service offering. The best example of this would be Paypal's direct integration with eBay or Stripe's integration with Shopify. It is important that the customers benefit from this integration. Any integration in companies with overlapping functionality will hinder the customer experience directly. This will be in direct contrast to the goal as you will be losing customers and not gaining them.
Source:
https://www.emarketer.com/content/us-ad-spending-2018 
https://blog.hubspot.com/marketing/best-cobranding-partnerships 
https://www.hubspot.com/state-of-marketing
https://www.saastr.com/saastr-crosses-10-millions-views-on-quora/ 
https://www.nielsen.com/us/en/insights/article/2013/under-the-influence-consumer-trust-in-advertising/