Drupal
Empowering Developers for Growth in IT with Drupal
Post Covid-19, finding an IT job has become more challenging for freshly graduated software engineers as different organisations have different priorities in terms of required technical skill sets. In times like these, insights on which risk-free skill set to pursue becomes all the more critical.
Drupal for the Aspiring
Drupal is one of the most significant Open Source Web Application projects in the world. Started as an open-source tool for building community websites, Drupal has now evolved to be a platform that supports large and complex use cases/applications. A varied spectrum of site owners from individuals to small start-ups, universities, museums, enterprises, non-profits, and governments use Drupal. 
Dries Buytaert, the founder of Drupal, likes to define the use case of Drupal as the platform best used for great digital experiences 1. It encompasses the use of Drupal to power mobile applications, create digital business units, digital kiosks, community engagement portals or even enhance digital user experiences. Drupal is flexible, scalable, and provides the creative freedom and speed that site owners value most.
Some of the Drupal projects that truly showcase its capacity are The Weather Channel2 (in terms of scale), The White House website3 (in terms of security requirement), and Johnson & Johnson4 (with thousands of Drupal sites).
Organisations prefer Drupal because of its greater flexibility, better usability, deeper integrations, and faster innovation. While clients' requirements vary depending on their business needs, having features that they can integrate if needed even later is another plus as far as Drupal clients are concerned.
Keeping Up With Drupal and Other Technologies
One very positive aspect about Drupal and its community is the regular upgrade keeping pace with advancements in technology. Whether responsive, web services, social media integrations, IoT, AI, the community of contributors keep Drupal up to date and ready to deploy with the latest digital market.
Site owners who prefer Drupal are usually the ones at the cutting edge of innovation, using the power of Drupal to transform their businesses in the digital world. So are the developers who work in the back end and front end of Drupal projects. They are constantly learning from their peers in the Drupal community.
Drupal community is close-knit, where community members are ready to have their back in your learning and contributing. By contributing to the various Drupal projects, you can constantly learn and be recognised for it.
The mentorship program in the Drupal community is also solid. Drupal camps local to specific geographic locations are pretty common, especially across the main cities of India. Regular hackathons and code sprints are conducted, which help accelerate your progress through the Drupal learning curve.
Lack of Contributions Affecting Drupal Currently
Dries Buytaert, in his report5 on Who sponsors Drupal Development, 2021 highlighted a few points:
Contributions to module development have been noticeably reduced compared to 2020.
This reduction in contributors and contributions was not specific to any particular area, but he observed it to be consistent across organisations, countries, and project types in general.
Dries attributed it to the downturn caused by the Covid-19 pandemic and also to the general slowdown that happens after a major Drupal release, or as Dries calls it, "the Drupal Super Cycle".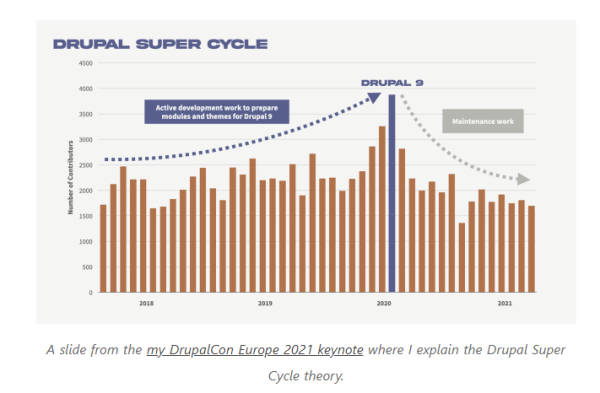 Source: Drupal Super Cycle5
Dries also attributed the slow down in contributions to the natural busyness that Drupal Service Providers have while scaling up in size. A proof of this scaling up is evidenced by the fact that 7000 contributors have been newly welcomed to Drupal.
1,100 new corporates have joined the Drupal Association as contributors to the Drupal project.
Despite this increase in new members, there was a 10% decrease in contributions from individuals and a 2% decrease from organisational contributors.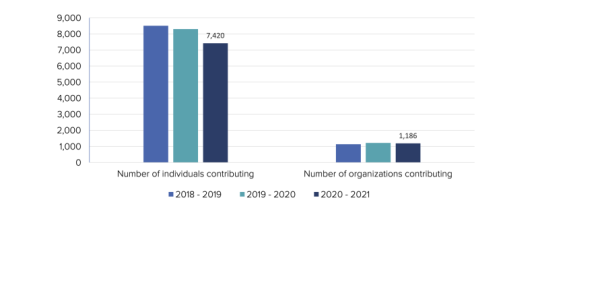 Source: Drupal Contributions5
Dries tried to analyse the slow down in contribution statistics. He found that the top 1000 individual contributors are responsible for 65% of all the contributions and the rest of the individuals together account for the remaining 35%. Of the 1000 top contributors, 252 contributed more, 671 contributed less, and 77 stopped contributing to Drupal. While the attrition rate was low, he felt the chief contributors were less active but still loyal for July 1st, 2020 to June 30th 2021.
The attrition rate of 7.7% for the annual period he considered negligible compared to industry standards (15%).
Developer Friendly Environment
Dries Buytaert wants to expand the number of web service endpoints Drupal offers and build an extensive repository of web components and JavaScript framework integrations. So if you are familiar with any technology, learning Drupal will only enhance your work experience to cater to future client requirements.
The development of Drupal as a headless CMS is gathering momentum, primarily driven by the growth of JavaScript frameworks. Along with it, another trend is the use of independent, API-first micro-services. Dries is confident that this will make Drupal one of the most influential and flexible tools for developers.
Also, to make it easier for those new in the Drupal career field, Drupal has started adopting GitLab development tools as opposed to the previous in-house tool. It accommodates and encourages contributions from developers who are new to the Drupal ecosystem but are familiar with tools like GitLab.
Need for Drupal Talent
With companies adopting digital transformation like never before, Drupal is the most popular enterprise-level CMS that drives this transformation. New software and platforms are being developed constantly, but Drupal alone has stood the test of time.
India as the 2nd largest contributor to Drupal, stands to benefit the most by building a Drupal workforce that can help fresh graduates build future-proof careers.
Multinational Corporations (MNCs) like Google, Amazon are investing heavily into Free and Open Source Software development, knowing Free and Open Source Software in the future, especially Drupal Web Content Management System.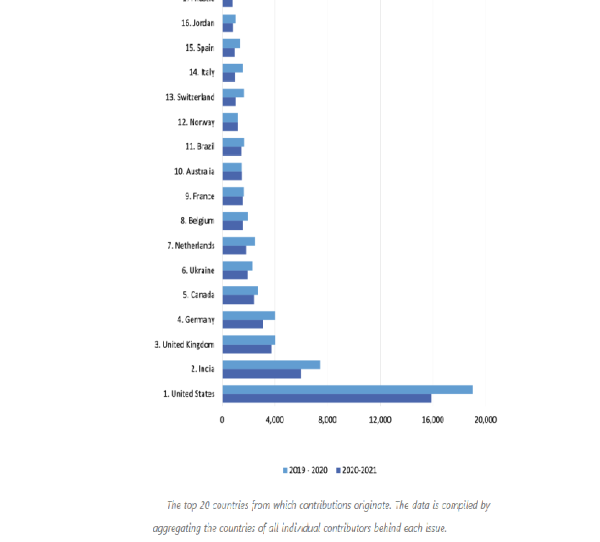 Source: Drupal Contributions Countrywise5
India's Potential as the Largest Digital Workforce
Businesswire7 reported that the estimated global market for Web Content Management Systems (Web CMS) even amidst the Covid 19 pandemic at USD 5.7 Trillion for 2020. As quoted in the news story, a report published by ResearchAndMarkets.com8 projected that it would triple in the next seven years, growing at a CAGR (Compounded Annual Growth Rate) of 16.5% over 2020-2027. Solutions, one of the segments in the report, has a projected CAGR of 15.5%, reaching USD 9.1 Trillion at the end of the same period. The Services segment projection has been revised to 17.9% CAGR for the same seven-year period owing to the Covid -19 pandemic.
Business wire estimated the Web CMS market in the U.S at USD 1.5 Trillion in 2020.
With the second-largest economy, China is projected to reach a market size of USD 3.8 Trillion by the year 2027.
India comes 15th in the Market analysis, right behind Australia, followed by South Korea.
Zyxware's Initiative with ICFOSS
Zyxware Technologies9, a Drupal Service Provider and a Signature Supporting Partner of the Drupal Association, has been closely associated with Drupal for the last 15 years. As champions of the FOSS philosophy, we realise the need of developing technological for the modern workforce.
It's an ever evolving digital landscape out there - one for which ICFOSS (International Centre for Free and Open Source Software) regularly upskills people through their digital courses. The ICFOSS-Zyxware Drupal Certification Course has thus been designed to contribute to the growth of expertise in the most widely used free & open software - Drupal. 
Drupal is celebrating its 20th Birth Anniversary this year. There are over a million Drupal developers and other contributors to the Drupal project, making it one of the largest open source communities in the world. Take a look at https://jobs.drupal.org/ to find the possibilities for Drupal developers around the world and come and join the Drupal workforce.
References