Drupal
Drupal 10 Release Party and Global Training Day 2022
Press Release
ICFOSS in partnership with Zyxware Technologies and TheDropTimes, is organising the Drupal 10 Release Party & Drupal Global Training Day on 17th December 2022  from 10.00 am to 5.00 pm at ICFOSS, Sports Hub, Karyavattom, Trivandrum, Kerala.
Drupal powers the digital experience platforms of many organisations globally, including Tesla, the Government of India, General Electric and many more. IT services providers like TCS, Cognizant, Infosys, Wipro, Jio, and HCL are building Drupal practices for their projects with these organisations. It is backed by one of the world's most active Free Software communities.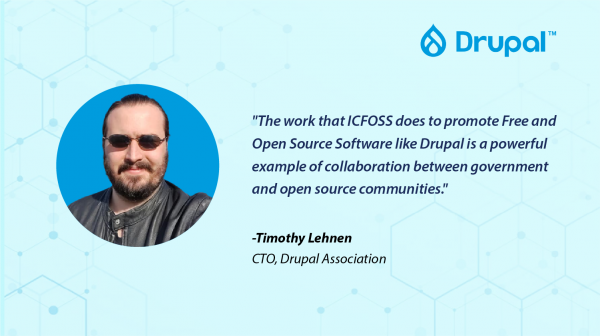 Drupal 10 release party
Drupal 10 is a much-awaited major upgrade to Drupal with tons of new features - including fully accessible themes, CKEditor 5 and much more. The release is planned on December 14, 2022. Drupal enthusiasts worldwide will celebrate the release with sessions on the new features of Drupal 10 over its predecessor. The event will also have a video message from Tim Hestenes Lehnen, CTO of Drupal Association, summarising what is new in this update, followed by a session that explains these updates in detail.
Let's join the celebrations!
Drupal  Global Training Day
Drupal Global Training Days (GTD) is an initiative of the community to introduce people to Drupal. The objective of Drupal GTD is to teach Drupal basics and about the community.  Participants will leave with an understanding of what Drupal is, how to get started with the digital experience platform, and the community behind it. The workshop will be hands-on, and the participants will get the opportunity to experience Drupal from the professionals in this area. Participants will also learn how to join the Drupal community, make contributions, and network within the same.
Event details
Date: December 17, 2022, Saturday
Time: 10:00 AM - 5:00 PM
Venue: ICFOSS, Sports Hub, Karyavattom, Trivandrum

For more details of the programme, please contact +91 7356610110 | +91 2700012 /13 |+91 471 2413013 | +91 9400225962 | between 10:00-17:00 hrs IST for any further clarifications.
To find out more about career opportunities in Drupal and managerial roles, please visit our Careers Page.