Digital Transformation
Benefits of Using Single Sign-On to Enhance Internal User Experience
Every workplace is full of circumstances, from onboarding new hires to accommodating flexible work schedules that affect how people think and feel about an organisation.
"Only 13% of employees are fully satisfied with their experience."
Digital employee experience (DEX)—sometimes referred to as end-user experience (EUX)— focuses mainly on the technical side of things ranging from website design, navigation, and transaction ease. It defines the quality of users' interactions with the workplace technology they need to do their jobs. Furthermore, it looks at how productivity is impacted by system performance and usage.
Why Is Digital Employee Experience Important? 
Elevating the employee digital experience means your employees will be able to complete many essential processes in minutes or even seconds. But the benefits of an excellent digital employee experience go far beyond increased efficiency and productivity. The digital employee experience is also crucial to boosting employee wellbeing. 
Outstanding digital employee experience will enable you to access essential information, data, and insights concerning employee absenteeism and wellbeing. In this way, you'll be able to spot patterns and act to prevent minor issues from escalating into serious problems for your people and your business.
Ways in Which Drupal Can Be Used for Digital Employee Experience
A digital experience platform (DXP) is software enabling an organisation to consistently create, manage, deliver, and optimise experiences across every digital touchpoint of their customer journey.
DXP is thus more focused on providing an organisation with a complete toolbox. The marketing technology landscape is vast, with countless options available for almost any problem. Buyers will look for solutions which fit their needs, capabilities and budgets. It will inevitably lead to buyers working with a mix of technologies which may not be well integrated. The problem can then be seen as how to coordinate these tools to act in unison.
Drupal can be used to build corporate intranet portals as part of the Digital Employee Experiences in two main ways.
Learning Systems: Drupal can be used to build intranet knowledge base portals for self-service employee learning. We can use it to deliver learning programs for improving employee skills, imparting knowledge of new products and services, company processes, and compliance learning. 

Self Service Portals: Intranet portals for helping employees raise service requests related to IT, HR, Finance, Facilities etc. and track them. It highly helps in improving employee experience and satisfaction as they no longer need to follow up with people or miss anything in the process. 
Drupal: An Excellent DXP
The Drupal ecosystem (hosting, code, support, knowhow) can tick many boxes for what makes up a DXP. Drupal has earned its place as a leading enterprise CMS excelling in content management and integration.1 These have always been its strong points, and as such, it is exceptionally well placed to form a vital part of a DXP.
Enterprises, corporations and companies with multiple web properties are struggling to provide a better user experience and offer a single "corporate ID" and "Password" as the key for all.
The user should use this single ID across all the properties, and corporations should still be able to manage the access level and permission of the respective user based on the grants assigned to this ID in each web property.
Some of the marquee Drupal implementations which are handling multiple sites at a time worldwide are listed below
Large Hi-tech companies like GE, Pinterest
Entertainment companies like Grammy, NBC
Retail companies like Wholefoods, Royal Mail, Puma
Sports websites like NBA, Rio Olympics 2016
Famous Life Science companies like Pfizer, Johnson & Johnson
Renowned NGOs like World Economic Forum, Rotary International
Government organisations like the City of Boston
World-class educational institutes like Harvard, Stanford
50% of top Financial Services companies like HDFC Life, Aegon Religare, Thomson Reuters etc. use Drupal
What is Single Sign-On( SSO )?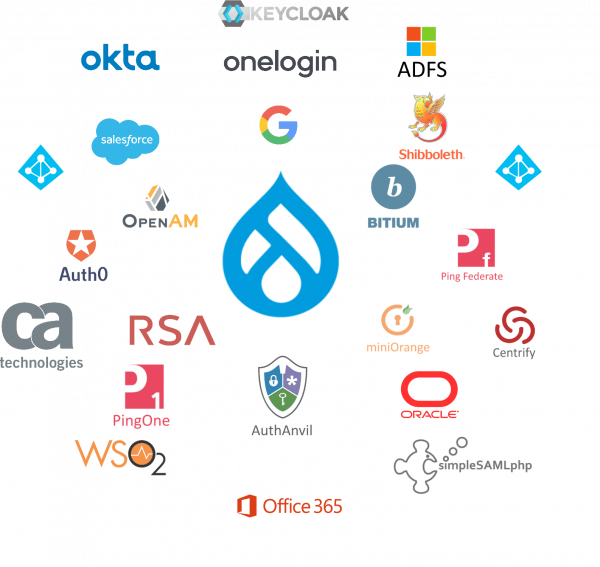 Single Sign-On (SSO) is a user authentication service that permits users to use one set of login credentials (e.g., name and password) to access multiple systems.
Single Sign-On (SSO) for Drupal is a professional extension that automatically creates accounts and signs users in as they browse your network's multiple and independent Drupal websites. SSO takes away the need for your users to create accounts or re-enter their authentication credentials when they switch from one of your websites to another.
Drupal has demonstrated deep experience helping customers build a digital workplace with SSO to free end users from the office, allowing them to work securely on virtually any device, from anywhere, at any time.
Benefits of Single Sign-On (SSO)
Below are the top five major Single Sign-On(SSO) benefits to enhance internal user experience.
1. Boost Productivity 
If you have more than one web portal to manage, creating and maintaining separate accounts in each web portal would typically be a challenge. But this is not a challenge anymore with Drupal's support for multiple SSO systems.
Even better, with specific ready-to-use modules, Drupal itself can become an IdP—identify provider, a service that stores and manages digital identities—where you can create all user accounts in the leading Drupal portal and use that to log in to all other portals you have.
SSO allows employees to access their corporate-approved apps with one click quickly. It eliminates the inconvenience of managing, remembering, and resetting multiple passwords, which benefits in an increase in loyalty and higher conversion rates
2) Decentralised Content Publishing
Enabling different departments to publish content on digital platforms seamlessly enhances the experience of employees. Drupal's capability to connect the SSO the organization uses allows for the department's access to the portal workflow. An admin could map the roles and permissions with the organization units the user is in, allowing the required access control to the website sections and triggering the appropriate workflows for publishing content.
3) Enhanced Security
Storing specific user details in web CMS databases is always a challenge, especially for corporates having multiple web portals to manage. With SSO, one could ensure no user-specific information is stored in the Drupal database. With SSO, organizations can leverage the investment into the centralized user directory and better control access to different systems.
E.g. If an employee who has access to the Drupal platform leaves the organization, if they use SSO, their access to the Drupal platform will automatically be revoked as the user gets removed from the central database.
Administrators have complete control over who can see and who can amend every part of a site in Drupal. There is a system of extensible user roles and access permissions in it. Administrators can form distinct user roles and provide particular, restricted permissions.
4) Improve Employee Satisfaction
The employee profile on the intranet is where the employee can edit their data by themselves. As a result, the HR department and the system administrator do not have to do this themselves, increasing employee satisfaction and commitment. 2
The administrator can flexibly manage all employees' displayed and edited data rights. The employee decides what specific information they want to share with other company members. Thanks to the employees being able to edit their data, they can also better express their personality, experience, and expectations by showing other team members who they are.
5) Cost Benefits
All major SSO providers like Okta, ADFS, Azure SSO, and Auth0 have modules available in Drupal. Most of these modules require less coding effort. Also, Drupal supports major SSO protocols like SAML and OpenID Connect. There is no additional licensing fee to pay for these integrations—You invest in your central SSO, and you can connect to that from Drupal.