On June 24, 2015, Zyxware Technologies celebrated its ninth anniversary. In nine years, the company has scripted an amazing story of growth, development and steadfast commitment to our values. Backed by a strong value system, vision, strategy and consistent focus on execution, we have built a strong organisation that is ready to leave behind its start up days and develop into an impactful global organisation.
Small beginnings, Big rewards
Starting from its humble beginnings as a one-man organization in 2006, Zyxware has grown into a strong company delivering true value to its people, clients, and society. A global IT solutions provider,
Zyxware offers a broad spectrum of services including Web and Mobile application development and IT Infrastructure solutions.
Click image to see full timeline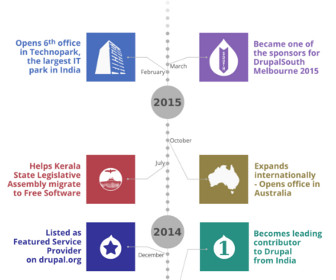 In the Drupal based web applications space, Zyxware is a leading service provider in India. It has an experienced team which has delivered over 150 projects in these nine years in diverse sectors including education, government, ecommerce, healthcare, entertainment, reck image to seal estate, media, publishing and non-profits. Its client is truly global covering the entire planet from Australia to USA. Consistent with its commitment to quality of services, it has built specialist teams for each aspect of web applications including user interface designers, business analysts, quality control specialists and technical architects. The team has built sophisticated, high-traffic business websites for clients across the world, thus enhancing their productivity and making critical business operations faster and cost-effective.
In its IT Infrastructure Solutions business, it has served the requirements of numerous government organisations, businesses, schools, colleges and non-profits. Focusing on enhancing the IT capability of our clients, we offer IT Hardware Solutions, Software Solutions and Trainings for users so that the organisation is able to make the best use of what IT offers. We have also made significant efforts to promote the use of Free Software in Kerala. One of our proudest moments was when we were able to lead the Free Software migration at the Kerala Legislative Assembly. We have actively collaborated with the Free Software community in Kerala and beyond to build strong networks of Free Software users.
Numbers say it all: Zyxware positioned for continued growth
Currently, Zyxware has around 68 employees comprising developers, designers, software engineers, quality assurance specialists and data analysts.

At present, the company has 5 offices across India, Australia and the U.S. Plans to set up 10 more offices by 2019.

Zyxware has registered 2875% growth in the last nine years.

Achieved revenues of approximately Rs. 2.65 crores in 2013-14.

Projected to achieve Rs.100 crores by 2018-19.
At this juncture, we would like to extend our sincere gratitude to our employees whose perseverance, determination, confidence and high aspirations have phenomenally contributed towards the growth of the organization. We would also like to thank each of our clients for their continued support and belief in us and for playing a seminal role in our growth and success.
Thank you very much.