International Centre for Free and Open Source Software (ICFOSS) and Free Software User Group, Trivandrum are hosting a Software Freedom Day celebration event on Saturday, 20th of September, 2014 at the Main Hall, Trivandrum Press Club between 3:00 PM and 6:00 PM. Zyxware Technologies is coordinating and sponsoring the event.
The Software Freedom Day celebration is an annual event coordinated by Software Freedom International, a non profit organisation working towards promoting Free Software. The purpose of the event is to spread awareness about Free Software in society. This will be a good opportunity to get to know Free Software, reaffirm our commitment to Free Software philosophy and spend time with members of the Free Software community.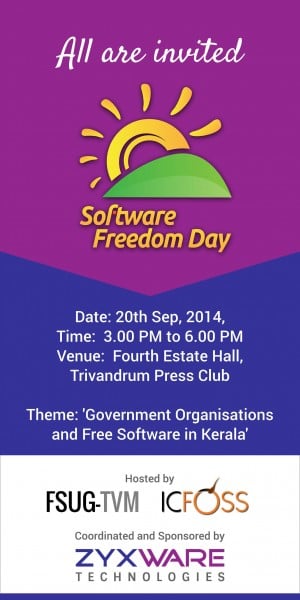 This celebration in Trivandrum is organised around31 the theme 'Government Organisations and Free Software in Kerala'. Accordingly, there will be short presentations on Free Software migration experiences at Kerala State Electricity Board (KSEB), IT@School, Kerala Khadi and Village Industries Board, Kerala Legislative Assembly by representatives of these organisations.
This will be followed by a felicitation of these organisations and brief Question and Answer session on Free Software migrations with a panel of Free Software professionals. The main speakers at the event are Mr. P. H. Kurien IAS, Principal Secretary, Department of Information Technology, (Govt of Kerala)?, Mr. Satish Babu, Director, ICFOSS, Dr. V. Sasikumar, (Member of the Board) FSF India.
The Government of Kerala has time and again reiterated its belief in Free Software through its IT policies of recent years and its decision to completely move onto FOSS for all its computing purposes.These organisations have provided the much needed proof that such attempts are feasible in light of the government order on Free Software migration in government departments. This celebration is an opportunity to showcase the success stories so far.
We welcome Free Software users, enthusiasts and activists to the event and join the celebrations with the international community.