Drupal
Unpacking the Schema.org Blueprints Module: Insights from My Session at Infosys

Recently, I presented an online session for the Techcohear community at Infosys, focusing on the Schema.org Blueprints module.  This module, developed by Jacob Rockowitz simplifies building structured websites. It's a significant leap for Drupal in managing and distributing structured data. 
The Schema.org Blueprints module stands out for its potency in facilitating the construction of a structured website. For those unfamiliar with it, this tool drastically reduces the time and effort needed to shape a content architecture that adheres to modern standards. Jacob's extensive array of demos and tutorials helped me to take this webinar. Hats off to jrockowitz for this incredible contribution to Drupal community.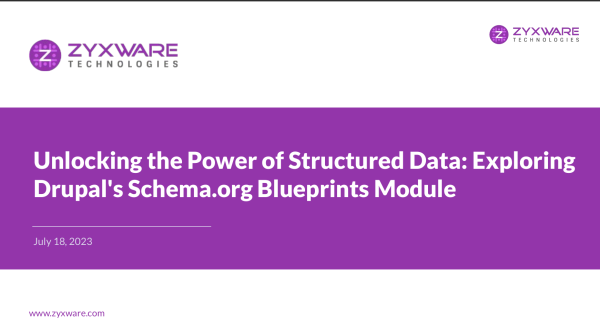 To provide a hands-on perspective, I undertook the challenge of replicating the content architecture of a website we'd developed previously. And in just a few hours, I could accurately mirror the website's data model, a testament to the efficacy of the Schema.org Blueprints module.
My experience emphasizes the module's transformative potential for anyone keen on optimizing their digital platforms. The modern digital landscape necessitates tools that can keep pace with evolving demands, and this module is undoubtedly a step in the right direction.
For those who attended the webinar, I hope it provided valuable insights. For those who missed it, I highly recommend exploring the Schema.org Blueprints module and the wealth of resources Jacob has provided around it.

I'm happy to answer any questions you have on this module. Please let me know if you need to discuss my experience with this module.