Testing
Common design issues to be avoided by a Drupal tester
One of the most important aspects of a Drupal application is obviously its interface which is all what an end user gets to see. These Web Design issues/bugs negatively affect the final look and feel of the end product. Here are some of the most common design issues to be avoided by a Drupal tester.
Common design issues in a Drupal site
1. Alignment issues
Button alignment issues
Buttons should be left/right/central aligned. If there is more than one button on a page (as in the example below) then the alignment opted for both th e buttons should be the same.


Text alignment issues


Content should be left/right/central aligned.(proper spacing should be given between the title/text and text/button)
Button text ("more") should be centrally aligned.

Alignment issues to be noted in case of forms which contain text fields and buttons

All text fields in a form should be vertically aligned.
All text fields should be of equal width. An improper spacing like in the given example takes away the look and feel of the form.
All text fields should start and end with the same level.


2. Another serious issue occurs when some of the expected elements/client requirements are missing.
Icons or menu bar may be missing (due to the lack of attention)
3. Typos in the content are often ignored
New text should begin with capital letter.
Proper Spacing should be given after "," ":" etc


4. Overlapping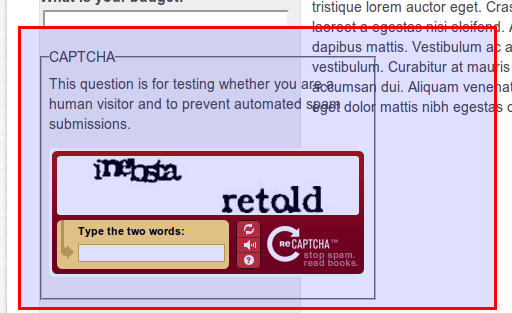 Often the text in the content overlaps with the nearby text/buttons/images.
5. Color differences are another issue which can be easily noted. Color differences of
Buttons might occur.
Text might occur.
6. Font differences are also a common bug noticed in most of the sites. Issue might be with
The Font Family
The Font Size
The Font Weight
7. Images getting cropped.
Often images might get cropped at its left/right/top/bottom.
Re-sizing of images to a specified width might compress/stretch the image.
8. Another issue commonly found in a Drupal website is that the node/content may be displayed in the URL

By checking all these cases, we can assure that Design issues doesn't exist on your Drupal site.