Quality Assurance
Customer-Centric Approach to Quality: Talk by Arun Kaushik of Amazon
Quality culture is always about being customer-centric. So anything we do, we are ultimately doing it for the customer, whether it be an internal customer or an external customer. Even if delivery to one customer has been affected, everyone in the hierarchy has to work to resolve it. They have to identify the root cause of why it was not delivered, and those responsible should be able to explain it to the concerned. That is the kind of customer focussed approach an organisation needs. That happens only by improving the processes and making sure that there are people capable of doing it. It also means adopting the latest technologies to support the procedures undertaken.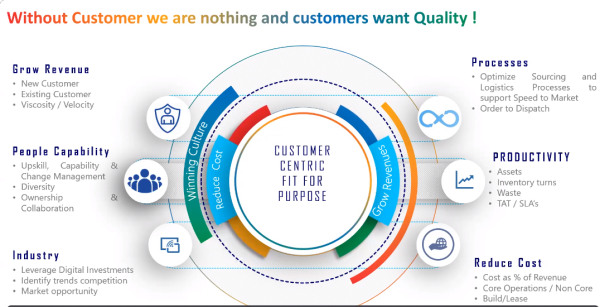 Quality culture is always about being customer-centric. 
Credit: Mr Arun Kaushik/presentation
Remember, every customer can bring in a new customer. Every customer is an opportunity to give visibility to whatever I am selling and the kind of velocity I am dealing with.
It is also quintessential to deliver value through some good things that customers may not be paying you. It might even not help you while competing with your peers, but if it keeps your customer happy, do it.
So all the quality initiatives and whatever the chosen framework is should lead to every customer being happy.
Quality journeys should not be looked at as silos but should have definite links with the organisational objectives- the broader objectives. While these are aligned to the corporate goals, the one single focus should still be the customer.
Remember, the mantra is, "My customer cannot be wrong. My customer is everything for me and I am fit to serve my customer."
How to develop a Quality Mindset?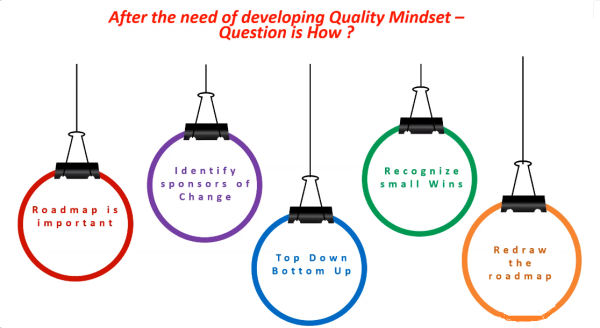 Celebrate small wins and constantly redraw the roadmaps. 
Credit: Arun Kaushik/Presnentation
The Quality Culture we create should be about breakthroughs. It is not about the small wins. We celebrate the small victories. We reward people based on that. But we have to link them to the performance majors.
QC Tools

QC Tool

Description of Tool

Tool Deals With

Pareto Diagram

To pick up the important few problems from the trivial many

Numbers

Histogram

To see distribution pattern compared against standard values

Numbers

Check Sheet

To collect data in a simple manner to prevent omitting the checks

Numbers, Y/N, True/False

Graph

To put the data in a visual & easily understandable manner

Numbers

Cause & Effect Diagram

To recognise the factors which are influencing the problem 

Ideas

Scatter Diagram

To see the relation between two sets of data

Numbers

Control Charts

To see the process is in stable condition

Numbers
Road maps drawn are never permanent. We have to redraw these roadmaps every so often. That involves making new versions (e.g. version 1, 2, 3), where the next version is always better than the previous one: To be the better of ourselves.
In all organisations, the changes implemented today may go away tomorrow, but you still make the change. Even if the difference is a small one, implement it because it will help you today. Tomorrow it might change, but that's okay because it is a continuously evolving journey. Mistakes might happen but keep revising your roadmap, fine-tuning and evolving. Keep on sharpening it, bringing it closer to what you expect out of it.
In manufacturing, this is a proven model which always gives profit or return on investment.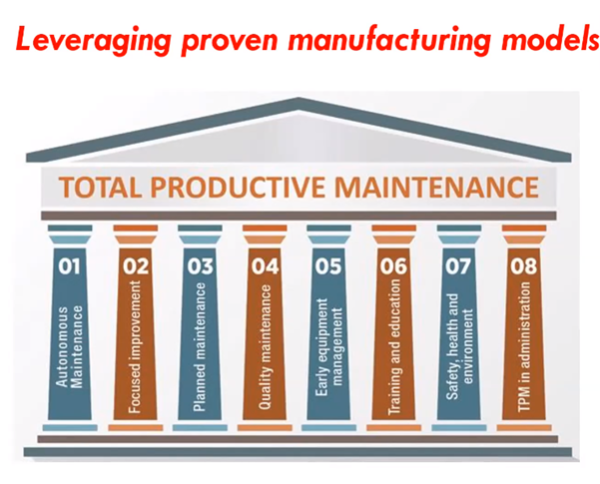 Changes implemented today may go away tomorrow, but you 
still make the change.Credit: Arun Kaushik/Presentation
Six Sigma is again a proven methodology wherever we see the variations and can be the evolved state of any organisation. But most organisations that claim they are driving projects on Six Sigma are more focused on putting the outcome into the project methodologies. The projects lack the soul that was there at the beginning of the projects.
Six Sigma is an excellent method that leverages data to improve the problems that some basic techniques cannot solve. Six Sigma is one of the best ways to analyse data and draw inferences through hypotheses based on data. Data does not lie. Rest can be incidental, could be subjective. They could be driven by different functional motives. But data never lies. So whenever we are adopting the practice of Six Sigma, we are more dependent on data, the insights generated from the data.
For example, today's e-commerce companies are all about LEAN. They are leveraging Lean principles to deliver value to customers.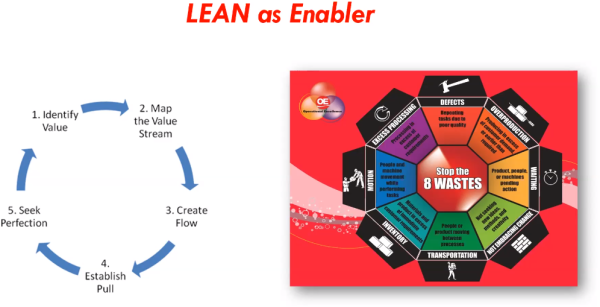 Removing pointless processes will help you with speed 
and cost. Credit: Arun Kaushik/presentation
When a customer orders a particular product from an eCommerce company, the entire process is mapped to the LEAN methodology. Everything is mapped as per the LEAN principles, including
how the customer order will flow in the fulfilment centres,
what time the team would start working on it with optimum load balance, 
what are the resources required, 
what are the possible bottlenecks, 
how the truck leaving with shipment links to promising made to the customer,
throughput, capacities, turnaround time, everything is working in sync.
Successful e-commerce and service companies use the Lean methodology to deliver and fulfil customer orders. How they have gone about it is an eye-opener: In terms of how they have mobilised all their resources to remove the bottlenecks. So Lean is another process that is very effective in large organisations while working on any function.  
For the service industry, speed of delivery is critical. It is also vital that customers don't have any bad experiences. It is how we can have lesser defects. It has a direct correlation with the cost.
Whenever we talk about cost, look at your processes and whether you have adopted LEAN practices. There are a lot of pointless processes you will find, and removing them helps you in multiple ways- with speed and cost. Do things that make you better respond to the customer.
These are some of the basic tenets for starting on a quality journey. It remains the same for any function. For instance, companies work on their attrition model in HR functions by predicting attritions and building linear regression models. They create processes for how they are making payments. They map their overheads and manage their talents.
For Sales, some organisations deploy LEAN and Six Sigma to grow their sales.  So the Quality principles are not limited to specific functions but entire organisations and all functions.
(Talk by Arun Kaushik Paraphrased by Nisha Oommen)