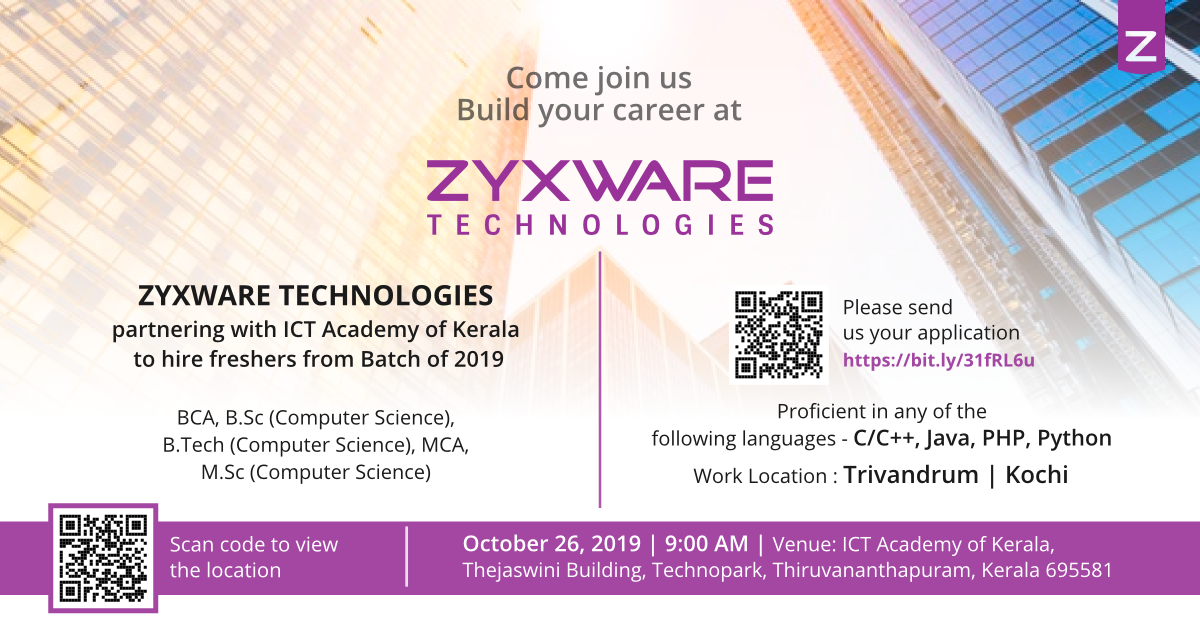 Keen about programming? Curious to know the why of things? Confident in your engineering ability?
Then you might be just whom we are looking for!
We are looking for freshers who have dived deep into computer science and the world of the internet. We offer you an opportunity to equip yourself and be part of building high-quality digital platforms that are changing the way organizations create value.
Should we find each other to be a good fit, you will be working with a team of internationally acclaimed technology professionals in a culture that values Free and Open Source Software as a philosophy. The candidate should be adept at programming and have the innate talent to write good code and solve problems.
Date of Interview: October 26, 2019, Saturday
Venue: ICT Academy of Kerala, Thejaswini Building, Technopark, Thiruvananthapuram, Kerala 695581
Education : BCA, B.Sc (Computer), B.Tech (Computer Science), MCA, M.Sc (Computer Science)
Selection Process
A brief description of the selection stages is given below.
Round 1: English language test - Online test to rate your communication skills in English.
Round 2: Objective round test (Programming) - This round consists of multiple-choice questions on Object-Oriented Programming Concepts and basic programming languages.
Round 3: Programming test (Machine test) - The programming test is for 1 hour. The test is to evaluate your logical and programming ability. You can choose the programming language among C/ C++, PHP, Java, Python.
Round 4: Face to Face Round - Technical / HR All the rounds will be conducted on the same date itself.
About Zyxware Technologies
Rigour and compassion, the ideas on which we have built Zyxware since 2006 has helped us develop into a globally respected Drupal service provider from India and taken the philosophy of Free and Open Source Software to millions. Today, we are taking the same ideas to deliver high-quality Digital Transformation services to our clients. With a talent pool spread across India, Australia, and the USA, we serve clients across the planet.
Our journey so far has seen us become the first company in India to build a talent pool for Drupal 8, a Signature Supporting Partner of Drupal Association, partner of Free Software Foundation, two of the world's leading promoters of Free and Open Source Software (FOSS). We have also delivered solutions for a clientele which includes INSEAD, Government of Bhutan, Government of India, The News Minute, world-leading Digital Agencies, etc.
In our new journey as Digital Transformations Service Provider, we are set to scale many challenges with our clients, partners and our people. Our services today include Digital Transformation Consulting, User Experience Strategy and Design, Web/Mobile Application Development, Support and Maintenance, Quality Assurance, Performance, and Security Audits and Digital Marketing Services.