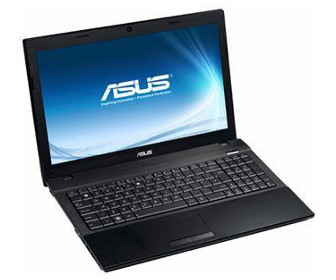 The revolutionary Asus P52F-SO105D Laptop simplifies your everyday computing and maximizes productivity. It boosts the overall speed, helping you complete the work in less time. Stylishly designed in matt black, this laptop becomes a perfect pick for younger generation as well as professionals. Combining style and performance, you get the best of both worlds.
Engineered with Intel Core i5-460M (2.53GHz) and 4GB DDR 3 RAM, it eases your use and speeds up your work. It runs effectively on Dos OS version.
Pros
Though the laptop comes in a compact body, it is equipped with a 15.6" wide display that offers ultimate viewing experience. The large display supports maximum resolution of 1366 x 768 pixels and brings to you crisp and clear view. With Intel Graphics Media Accelerator HD graphics and 4 GB graphics memory, it displays vivid and high quality images. What interests the users the most is the product's large storage capacity. With 500GB storage space, it offers enough room to store all your data and stuff. It is equipped with a 1.3 MP webcam and it proves useful for its users.
The Optical Drive supports range of media types and formats. With support for WLAN, it allows seamless wireless connectivity of the internet. Quick and easy data transfer is possible with the Bluetooth option. Expansion option is offered in the form of Card Reader.
The battery back up offered by this laptop is phenomenal. Using 8 Cell Lithium-ion batteries the device lasts for an impressive 6 hours. With weight of 2.62kgs, the product becomes very handy. Asus P52F-SO105D Black Laptop comes complete with 1 Year Limited warranty.