Hardware
Laptop Reviews-Acer (P6200 Lnx) LX.RFS0C.022 Notebook
Acer blends the brilliance of advanced technologies and elegance of contemporary design in its Acer (P6200 Lnx) LX.RFS0C.022 Notebook. This Linux OS based notebook is powered with an efficient Intel Pentium Dual Core Processor P6200, 2.13 GHz clock speed and 3 MB L3 cache. To improve the performance and speed, it supports 2 GB RAM DDR3 memory as well. It also has an expandable memory up to 8 GB. With regard to connectivity, this laptop features Bluetooth and Ethernet LAN. This laptop is Wi-Fi (802.11 b/g/n) enabled and it allows seamless wireless connectivity.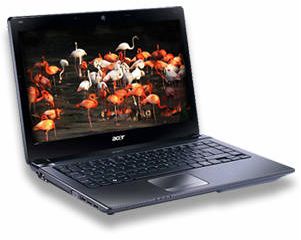 Addition of 500 GB SATA HDD with 5400RPM solves all your storage related issues. With ample space you can store all your data, music, and files in this laptop. This notebook is powered with 6 Cell batteries. It also features a sensitive touchpad and standard keyboard.
Advantages
HD-LED Backlit TFT LCD Display of 14" size screen with 1366 x 768 pixels resolution for easy viewing
Bluetooth v3.0 for quick data sharing
High quality, 1.3 MP Webcam with microphone
Intel Graphics processor for vivid and rich graphics

Integrated neatly within the device are USB 2.0 ports, HDMI, VGA and DVD writer that support major media types and formats. This Acer (P6200 Lnx) LX.RFS0C.022 Notebook becomes a stylish product in its black colour. The company, Acer also offers 1-Year warranty on this product. The device comes complete with Battery, AC Adapter, User Guides and Manual.