September 19, 2012 - 14:33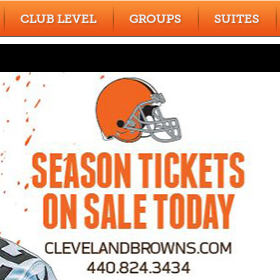 It is the official ticketing website of the Cleveland Browns, a professional football team in the US. This Drupal based website is primarily used to sell tickets, and notify users of events and activities associated with the Cleveland Browns team.
Site Features
Site has been implemented in Drupal 7.
This is an aesthetically pleasing website featuring a custom theme.
Zyxware was entrusted with the task of developing the complete website including the theming.
The site features a number of Jquery based slideshows including a prominent slideshow on the front page.
Colorbox popups with slideshows for the images in the gallery.
Integrated third party live chat feature.